State wants teachers to undergo Covid-19 test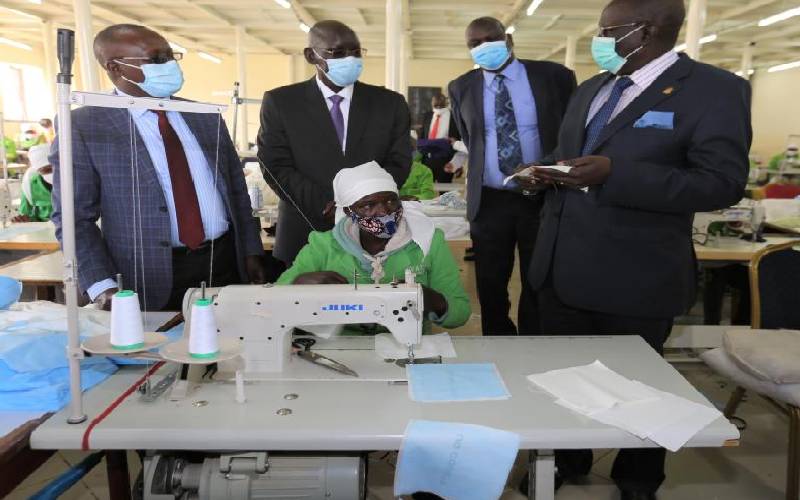 Teachers could be forced to undergo coronavirus tests ahead of the reopening, Education Cabinet Secretary George Magoha says.
"We are considering whether all teachers, who will resume work in September, will undergo Covid-19 tests," said Magoha.
The announcement came as questions emerged on whether learners will also be tested before classes resume.
Another major concern was whether the government has capacity for mass testing, considering that medics have advised that students be tested before resuming school, and positive cases advised to stay home until they recover.
In an advisory report last month, doctors also urged the government to carefully plan the transport system to stem transmissions from school to homes.
Experts also advised the State to provide face masks to learners and ensure proper use and regular changing of the protective gear.
Speaking yesterday after he inspected the progress of manufacturing face masks for learners at Rivatex East Africa in Eldoret, Prof Magoha said 24 million pieces will be delivered to schools in August ahead of the reopening.
"Once we agree on the prototype, then we will get the pricing so that when schools open in September, face masks will be in the institutions by mid-August as per the presidential directive," Prof Magoha said.
Magoha said the ministry had engaged five face mask manufactures, including the National Youth Service (NYS).
Prototype approval
The mass production of face masks by Rivatex will resume as soon as the Ministry of Health approves the prototype, Magoha said.
Rivatex Managing Director Thomas Kipkurgat said they are ready for the task after increasing production from 50,000 to 80,000 pieces a day.
"We are yet to know how many masks we will produce. But compared to other manufacturers, we have the largest capacity," Kipkurgat said.
Rivatex may also hire more tailors depending on how many masks it will be assigned to produce by the ministry.
Yesterday, Magoha said schools will receive masks and sanitation facilities by mid-August in readiness for reopening.
The CS said President Uhuru Kenyatta had directed the ministry to deliver the masks on time but discussions between the Ministry of Education and that of Health are yet to conclude on whether learners in lower primary will be allowed to wear masks.
"We will soon reach a consensus on whether the pupils in primary one and primary two will wear masks," he said.
Magoha said transparent face masks will be manufactured for the comfort of pupils in special schools who, make up one per cent of the total learners.
He, however, said face masks will be given out to learners in public schools, indicating that government has not budgeted for those in private schools.
The ministry faces the tough task of putting in place measures that will allow safe resumption of learning. Part of the challenge is implementing the social distancing rule.
Appearing before Senate Education Committee recently, Magoha said reducing contact by having fewer pupils in school at a time is an option. This means that the ministry could roll out a shift system, with only a fraction of learners allowed to be in school.
Rotation learning
Doctors have proposed that students in day schools learn for half day, with half the group learning in the morning and another in the afternoon since it may be impossible to build more classrooms immediately to help implement social distancing.
"Some schools do not have enough space to allow redistribution of learners to the recommended two-metres rule in and out of class," they say.
On the Competency-based Curriculum (CBC), Magoha assured parents that transition to grade five will be smooth and learning materials will be delivered before the end of September.
"We are on track and the major bottleneck we have had, with regard to the opening of schools, is a surety that there will be a transition and more specifically in the CBC top class," Magoha said.
He added: "We have vetted the Grade Five books and this week, we will announce who among the publishers will publish them. The deadline for the books to be provided in schools is the end of September."
At the same time, the CS told parents to spend quality time with their children and teach them good morals to minimise teenage pregnancies during the coronavirus period
He said children were increasingly getting access to online pornography while at home, saying parents should take the lead in monitoring and assisting their teenage children during the stay-at-home-period.