Number of learners far less than earlier thought, says report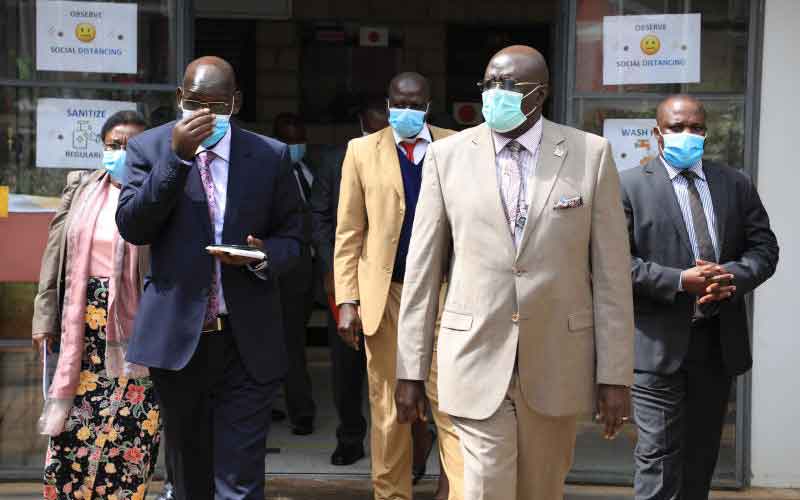 Primary and secondary schools have 11.9 million learners and not 16.2 million as earlier thought.
This was revealed yesterday at the closing ceremony of a 63-day exercise of data processing for the education sector at the Centre for Mathematics, Science and Technology Education in Africa (CEMASTEA) in Nairobi.
Though schools are closed due to coronavirus, Education Cabinet Secretary George Magoha said the Government is putting in place measures to ensure Competency Based Curriculum (CBC) and all other education programmes are implemented without any hitch when schools reopen.
His ministry has engaged 100 research officers to compile all forms of data on the country's educational institutions from early childhood centres (ECD) to university.
The exercise is part of the work being done by the Prof Fatuma Chege-led taskforce on enhancing access, relevance, transition, equity and quality for effective curriculum reforms implementation.
The taskforce was gazetted on June 21 last year and inaugurated on July 4 the same year.
The taskforce is also tasked to recommend issues, policies and strategies that the education sector needs to address to ensure access, relevance, transition, equity and quality for effective curriculum reforms implementation in Kenya.
Prof Magoha said the Government now has data on all learning institutions in the country and all details of pre-primary to university level institutions can now be accessed from a database at the click of a button.
This will help the Ministry of Education to ensure prudent allocation of resources to all educational institutions, especially in preparing schools, colleges and universities for reopening and operations during the era of coronavirus.
He decried lack of data and said the country has been implementing its programmes on education on information that cannot be validated.
"Data is everything. Kenya has had dirty data in the education sector. But now we have data that can be validated and corroborated. We will use this to ensure CBC succeeds and the learners are not forced to go back to the old 8-4-4 system," Magoha said.
He added: "You cannot plan for what you don't know. We are in a race that we must win. We can't wait for Covid-19 to end before we go on with our tasks. This information is key as it will inform us how we implement CBC in Grade 5 next year and beyond. You can't tell a child who is in Grade 4 under CBC to go back to the old system next year."
Education Principal Secretary Belio Kipsang said the ministry will now be able to allocate resources based on actual numbers, unlike in the past.
"Our biggest challenge as a ministry has been lack of reliable data. For the past 10 years, we have been grappling to know if we have 16 million learners in primary and secondary schools," Dr Kipsang said.
"Due to the challenge, we were informed there are 10 million primary school learners and 6.2 million in secondary schools. This is not the truth. The truth is there are 8.5 million children in primary schools and 3.4 million in secondary schools," Kipsang said.
There have been cases of school heads giving exaggerated figures of students to get more funds from government only to turn out that a huge amount of capitation ends up being released to ghost learners. The money ends up in the pockets of head teachers and collaborators.
"But this will end today. We are going to jealously guard this data so that it is not infiltrated and compromised. Those who lie with the numbers will be nabbed. We will go to the ground to physically count the learners," said Magoha.
[Protus Onyango, is a 2019/2020 Bertha Fellow]