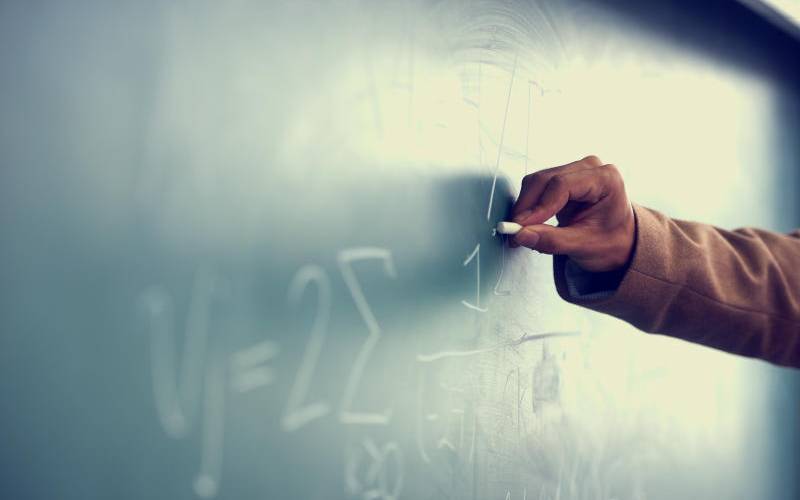 Science, Technology, Engineering and Mathematics (Stem) programmes attracted the highest number of students who sat the Kenya Certificate of Secondary Education (KCSE) examinations last year.
This year's university placement data by the Kenya Universities and Colleges Central Placement Service (KUCCPS) indicate that of the 122,831 applicants placed to degree courses, 66,661 (54.27 per cent) will join Stem programmes.
While releasing the 2019 KCSE placement report at the Kenya Institute of Curriculum Development (KICD) yesterday, Education Cabinet Secretary George Magoha said Stem subjects are critical for producing skilled workforce required for the attainment of the Big Four agenda.
The CS said the remaining 56,170, accounting for 45.73 per cent of the students, have been placed to arts and humanities.
Of the applicants placed to Stem, 42,267 (63.41 per cent) are male while 24,394 (36.59 per cent) are female.
Bachelor of Medicine and Bachelor of Surgery offered at the University of Nairobi (UoN) is the most competitive degree course in the country now.
Competitive courses
Others are Bachelor of Medicine and Bachelor of Surgery offered at Kenyatta, Jomo Kenyatta University of Science and Technology (JKUAT) and Moi universities, followed by Architecture, Dental Surgery, Civil Engineering, Aeronautical Engineering, Mechatronic Engineering, Pharmacy, Electrical and Electronic Engineering and Computer Science.
The courses are offered at UoN, JKUAT, Technical University of Kenya, Mount Kenya University and Egerton University.
According to the placement report, Bachelor of Medicine and Bachelor of Surgery offered at UoN had the highest number of those admitted.
The rest of the most competitive courses had admissions of between 25 and 70 students.
Data show that all the 630 students who scored A plain in the 2019 KCSE exam were admitted to Stem courses, apart from Kahindu Bruno Sharif who has been admitted at Nairobi Technical Training Institute for a Diploma in pharmaceutical technology.
Last year's best student, Buluma Wabuko Tony from Kapsabet Boys, has been admitted at UoN to study Bachelor of Medicine and Bachelor of Surgery.
Barasa Maryane Njeri of Kenya High School and was number two overall has also been admitted to the same university.
Other top performers, including Aboge David Ojiambo of Kapsabet Boys, Antony Owuor Ochieng' of Maseno High School, Siele Chelegat Eileen of Moi Forces Academy Lanet, Lauren Chelegat Ruto of St Bridgit Girls Kimilili and Madhuri Natasha Wawira of Kenya High School have all been admitted at UoN to study Bachelor of Medicine and Bachelor of Surgery.
Kizito Ezra Sikuta who sat his exam at Moi High School Kabarak has been admitted at UoN to study Bachelor of Architecture.
Out of the 630 students who scored A plain, UoN got the lion's share with 313, followed by JKUAT with 117, Kenyatta University with 64, Moi University with 53, Egerton with 26 and Technical University of Kenya with 17.
Maseno got 10, Mount Kenya University eight, Masinde Muliro University of Science and Technology (MMUST) six, South Eastern Kenya University (SEKU) three while Rongo and Jaramogi Oginga Odinga University of Science and Technology got two each.
Kabarak University, Tom Mboya University College, Nairobi Technical Training Institute, Pwani University, Multimedia University of Kenya, Kisii University, Kenya Methodist University, Daystar University and Dedan Kimathi University of Technology each got one student.
Overall, JKUAT admitted the majority of the students at 6,006, followed by UoN with 5,894, Maseno 5,716, Kenyatta 5,659, Kisii 5,566, Mount Kenya 4,400, Moi 4,948, MMUST 3,297 and Egerton 3,281.
Pwani got 2,694, Zetech University 1,943, University of Kabianga 1,734, Turkana University College 432, Technical University of Mombasa 2,170, Technical University of Kenya 1,667 and Taita Taveta University 1,335.
St Paul's University 1,023, SEKU 1,925, Scott Christian University 552, Umma 498, Tangaza University College 313, Uzima 227, Riara 90, RAF International University 195.
Prof Magoha said 689,007 Kenyan candidates sat last year's KCSE examination. Of these, 125,463 attained mean grade of C+ and above, hence were eligible for placement to university as government-sponsored students. There were 4,823 foreign students who do not qualify for government funding.
The remaining 563,544 were eligible for placement to TVET programmes at diploma, craft certificate and artisan certificate levels.
Universities declared 145,129 vacancies for government-sponsored students, while TVET institutions declared 276,163.
Placed appropriately
"Following the successful completion of the placement process, 122,831 candidates have secured placement to degree courses in universities while 88,724 got placed in TVET institutions.
"Of those placed in TVET, 53,726 will be admitted to Diploma; 29,112 to Craft Certificate and 5,886 to Artisan Certificate courses," Magoha said.
He added that the TVET number is expected to increase once the ministry receives returns from institutions where students may have registered directly.
A gender analysis of the placement to degree courses indicate that 70,050 (57.03 per cent) are male and 52,781 (42.97 per cent) are female. In TVET, the male students are 39,695 (44.74 per cent) while the female students are 49,029 (55.26 per cent).
Magoha said he is impressed that 2,632 candidates who scored C+ and above and qualified for placement to degree programmes opted for diploma courses in TVET institutions, and were placed appropriately.
"This number has been growing over time. In 2019, the number was 1,269. The growing number of these 'TVET Champions' is a clear indication that concerted efforts to improve enrollment in TVET courses are yielding fruit," he said.
The government applied affirmative action criteria for applicants living with disabilities, those from marginalised regions and for gender, based on the Universities Act 2012 and the placement policy.
"The total number of applicants who have benefited from Affirmative Action are therefore 2,648," the CS said.
[The writer is a 2019/2020 Bertha Fellow]