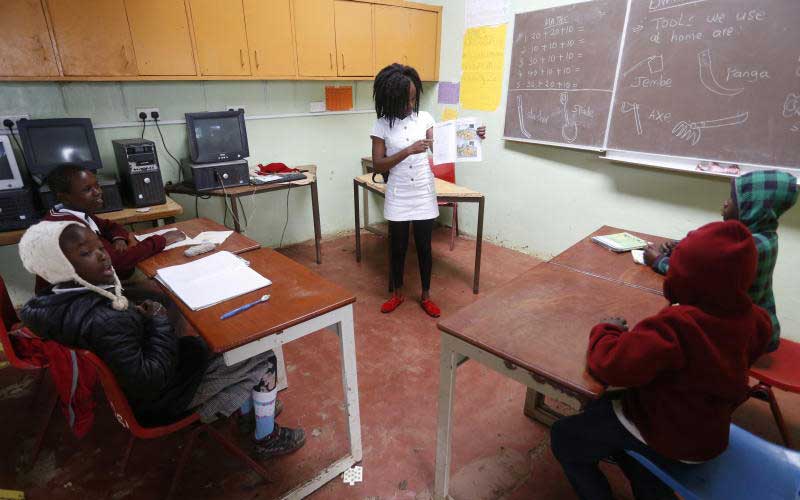 At least 10,000 teachers will be hired under a new stimulus package to mitigate coronavirus effects on education.
President Uhuru Kenyatta yesterday said the government had secured Sh6.5 billion to hire teachers and 1,000 Information and Communication Technology (ICT) interns.
And 250,000 new desks manufactured by local artisans will be delivered to schools as part of measures to boost infrastructure in readiness for reopening.
Uhuru said the ICT interns will support the ongoing digital programme being implemented by government to support home learning.
The Ministry of Education had rolled out out-of-class lessons through online, TV and radio channels after schools closed in March.
Children access the lessons through KBC radio, Edu-channel TV, YouTube and the Kenya Education Cloud. During submissions to the Covid-19 Education Response Committee, parents asked the government to provide sufficient ICT infrastructure for proper learning.
"The current e-learning should focus on revision rather than new concepts particularly for the candidates," said National Parents Association chairman Nicholas Maiyo.
The additional teachers to be hired will now bring the total employed this year to 15,000 as the Teachers Service Commission already received Sh3.2 billion to recruit 5,000 on permanent and pensionable terms and 10,000 teacher interns.
Overall, to ease teachers' workload occasioned by high enrollment in primary and secondary schools, TSC had projected to employ 40,000 teacher interns at Sh4.8 billion.
TSC also requested to hire another 25,000 new teachers at Sh15.4 billion.
In his address to the nation yesterday, the President hinted at plans to critically assess reopening of schools. Parents have maintained that schools should not be reopened until Covid-19 is cleared.
Kenyatta said the road map to resume learning was being developed and asked parents to be patient.
"I want to assure them in the very near future we shall be communicating extensively on this as discussions are ongoing between parents, teachers and head teachers on the programmes we have for the education sector," he said.
The statement comes as the deadline to submitting proposals on schools' reopening to the Covid-19 Education Response Committee lapsed Friday.
Sunday Standard established that at the end of the deadline, the Sara Ruto-committee established by Education Cabinet Secretary George Magoha had received more than 3,000 proposals.
Dr Ruto yesterday declined to discuss committee details but appreciated Kenyans for submitting proposals.
"On behalf of the committee, I wish to thank Kenyans for sending in their proposals and we want to assure them that we shall consider them," said Dr Ruto, who is also the Kenya Institute for Curriculum Development chairperson.
Sources in the committee said a three-step approach has been adopted by the team tasked by Prof Magoha to give critical advise on the reopening of basic learning institutions, teacher training colleges and adult education institutions.
The committee is now racing against time to prepare a preliminary report that will be used by Magoha on June 4 to give the way forward on the education sector.