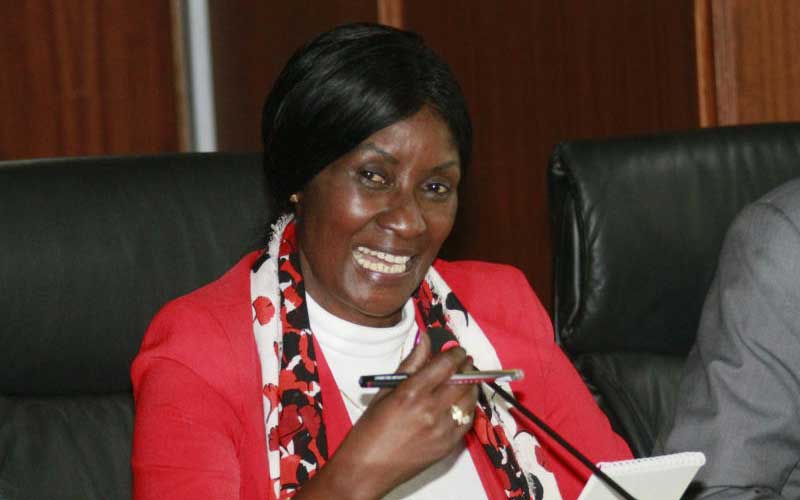 The Teachers Service Commission has raised concerns over a Sh17 billion budget deficit that it says risks scuttling the planned recruitment of teachers.
In a presentation in Parliament, TSC Chief Executive Officer Nancy Macharia (pictured) said only Sh3.2 billion had been approved for the recruitment of additional teachers, falling short of the commission's Sh20 billion proposed budget.
Read More
Dr Macharia said Sh2 billion would be channelled towards normal recruitment, which would cater for only 5,000 teachers. The remaining Sh1.2 billion will be used to hire 10,000 interns.
The allocation, she added, would sustain the new teachers and interns for less than one year.
"The funds are estimated to employ 5,000 new teachers for seven months, and 10,000 interns for nine months," Macharia said.
Teachers' unions have been calling for better remuneration of intern teachers posted to primary and secondary schools.
"We still do not understand why intern teachers are paid a paltry Sh15,000 when public servant interns earn Sh25,000," said Kenya Union of Post Primary Education Teachers (Kuppet) Secretary General Akello Misori.
Broken down, the interns' pay includes Sh1,200 for personal accident cover, with another Sh3,000 sent to the Higher Education Loans Board and Sh800 to the National Hospital Insurance Fund (NHIF). Some Sh600 is sent to the National Social Security Fund (NSSF) and another Sh1,741 deducted towards Pay As You Earn (Paye).
Meagre pay
Intern teachers for primary schools earn Sh10,000, which translates to Sh6,000 after Paye deductions of Sh1,116 and contributions to NHIF and NSSF.
TSC announced last month that 8,141 intern teachers had been hired and successfully added to the payroll, while 2,159 others were being processed and would be put on payroll once their documentation is verified. It added that 8,920 new teachers have been recruited on permanent and pensionable terms, with another 149 still being processed.
Macharia told MPs that its 315,000 teachers are overwhelmed by the huge student numbers occasioned by the 100 per cent transition programme, and an additional 104,087 teachers are needed in primary and secondary schools to ease the huge workload.
Appearing before the National Assembly Education Committee, Macharia said there are 211,046 primary school teachers against 259,219 required. About 48,173 more teachers are needed to bridge the shortage in primary schools alone. It also means more than 5,000 new teachers are needed for secondary schools.
Enrolment data from the latest Economic Survey shows that by the end of last year, primary school pupils stood at 10.1 million, with those in pre-primary 1 and 2 alone being 2.7 million. Secondary school student numbers grew by 10.8 per cent to 3.3 million up from 2.9 million in 2018.
TSC had projected to recruit 40,000 interns at a cost of Sh4.8 billion, and 25,000 new teachers at Sh15.4 billion.