Isiolo rural students get taught through radio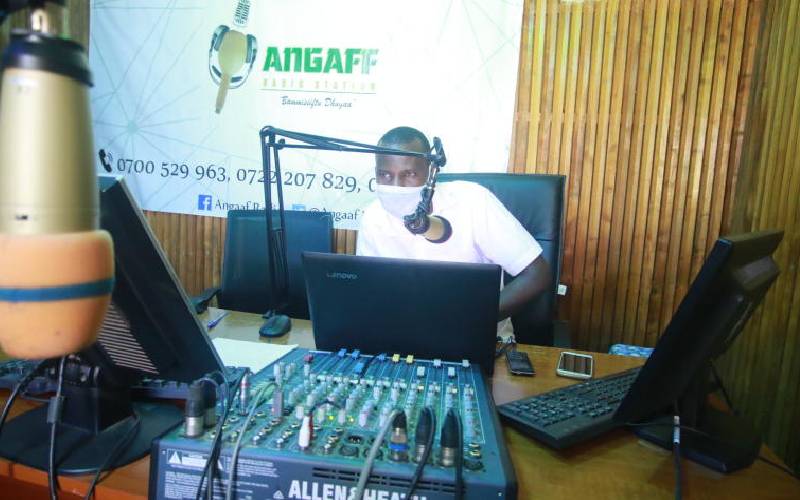 Students have had to embrace e-learning following the closure of schools to curb the spread of coronavirus.
However, those in remote areas of Isiolo have been at a loss for lack of internet connectivity until teachers and parents of various schools decided to explore radio lessons.
"We were worried about our children's education, but after a meeting with our Senator Abshiro Halake, she opened our eyes, challenging us to use radio to educate our children," says Ismail Galma, the chairperson of Parents and Teachers Association in Isiolo.
The teachers and parents approached Angaaf Radio, a community station, the Northern Rangelands Trust (NRT) and Isiolo County Government to formulate an education programme to boost home learning.
This has seen more than 27 teachers drawn from private and public schools learn radio and broadcasting techniques key to delivery of lessons.
Kenya Secondary Schools Heads Association Chairperson in Isiolo, Abdi Godana, says the education programme targets candidates in Form Four and Class Eight.
"Candidates are the most critical for now. Also, having students learn this way draws those who are in lower classes, as they want to know what their seniors are learning," he says.
This is the fourth week since the programme began and Joseph Kariti, a teacher at Waso Secondary School, has been offering biology lessons.
"I have been tackling genetic variation as well as changes in the environment that cause characteristics of organisms to change and adapt," notes Mr Kariti.
Away from the familiar classroom with a blackboard, the teacher is surrounded by two microphones, computer monitors and a sound mixer. The session is interactive and students ask questions.
At the end of the lesson, before hanging his set of headphones and moving away from the microphone, Kariti gives assignment to the students to be answered in the next lesson.
NRT is facilitating the radio programme by paying for the teachers' daily commute to Isiolo town where the radio station is located, and their meals.
"We are dedicated in empowering the schooling of children in northern Kenya," says NRT County Director Latif Boru.
The education programme has attracted Safaricom, which is looking to provide internet to remote areas in Isiolo to further boost students' access to education.
This is the latest investment in education by NRT that has also contributed to the construction of education infrastructure, paying salaries for supplementary teachers and bursaries for needy students amounting to more than Sh200 million.