KICD, StarTimes to offer online learning content amid Covid-19 pandemic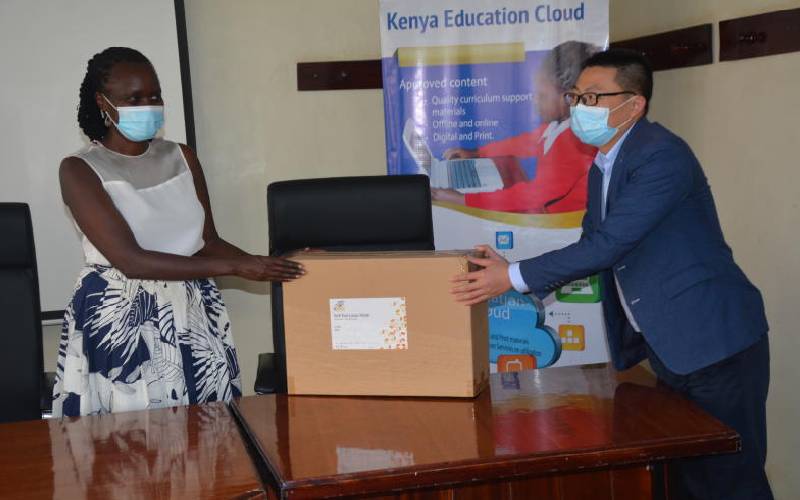 The Kenya Institute of Curriculum Development (KICD) has entered into a partnership with the StarTimes Kenya, a digital television to provide access to interactive educational content to learners in both primary and secondary levels in Kenya.
The institute is enhancing its coverage of the interactive radio and television lessons through various online platforms as the country battles with the spread coronavirus, which forced schools to be closed.
While welcoming the partnership, KICD Council Chairperson, Dr Sara Ruto said the institute has an enormous task that needs consolidated efforts to make sure that learning goes on and every child is benefitting from the process.
"The Covid-19 pandemic has pointed out a new feature of digital learning, we need to embrace it for the sake of our children and together we will be able to grow. One of the core competencies in the Competency Based Curriculum is learning to learn, this is an opportune moment to put it to practice," she said.
Through the partnership, StarTimes Kenya will provide access to KICD approved curriculum on their digital television platform including mobile application StarTimes ON as well as other self-produced television channels to facilitate learning among currently at home due to the Covid-19 pandemic.
"We have partnered with KICD to allow us to carry approved education content on our platforms. Currently, we have ensured that EDU Channel is available through our set-top boxes as a free to air channel and uploaded approved primary and secondary school curriculum on our StarTimes ON mobile application platform to ensure the majority of students have access to the education materials," said StarTimes Chief Executive Officer Andy Wang.
KICD Acting Chief Executive Officer, Dr Joel Mabonga welcomed the move noting the partnership will grow the number of platforms available for students who are learning at home with the content accessible on mobile application being a strategic option given the high mobile penetration in the county.
"We need to go out of our ways to make sure that learning continues even under the current situation as we establish strategic partnerships that will help us achieve our mandate as an institute tasked with a national responsibility of developing curricula and curriculum support materials informed by research for all levels of education below the university," he said.
Speaking to Standard Digital on phone, StarTimes Public Relations Officer Aklex Mwaura said the content will be available on their platform for free.
"Anyone with StarTime set-top boxes will pay no extra cost to get the learning content available at our platform is accessible to the public at no cost," he said.
The partnership will bridge the gap in ensuring that learners complement the radio and EDU TV education content with that which is now available on StarTimes ON mobile application that is available on Google Play or Apple App Store.
Learners continue to follow the interactive online lessons at home tuning to KBC English Service and Radio Taifa for radio programmes and EDU TV channel and the Kenya Education Cloud for interactive lessons.