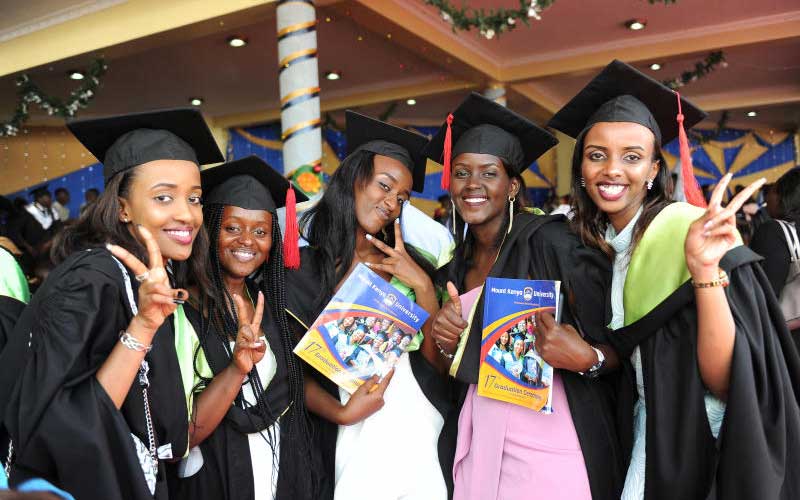 The University of Nairobi (UoN) supplies the highest number of graduates to Kenya's job market, according to an international research agency.
A report titled 'State of Graduate Employability in Kenya' by CPS International to be released today, ranked UoN the top university with most continuing students employed nationally with an index score of 26.8 per cent.
It was followed closely by Kenyatta University (21.3 per cent), Moi University (18.1 per cent), Mount Kenya University (16.5 per cent) and Jomo Kenyatta University (15.2 per cent).
Maseno University (13.6 per cent), Egerton University (13.5 per cent), Technical University of Kenya (8.4 per cent), Masinde Muliro University (7.1 per cent) and United States International University (USIU) with six per cent made up the top 10.
Read More
Working students
The study was conducted within a period of three months from the month of November 2019 to January this year. It was done by CPS International which has been conducting research in Kenya on higher education since 2012.
UoN also topped the top five public universities with most students employed while studying, with about 26.8 per cent of its students either employed or self-employed compared to Kenyatta University which stood in second position with 21.3 per cent.
Moi University (18.1 per cent), Jomo Kenyatta University (15.2 per cent) and Maseno University (13.6 per cent) came in third, fourth and fifth positions respectively.
Among top private universities with most employed continuing students, Mount Kenya University was ranked first with about 17 per cent of students working while studying compared to six per cent at USIU, 5.8 per cent from Strathmore and both African Nazarene University and from KCA University tying at 4.9 per cent.
The findings show the most employable graduates were from UoN with an employability index of 38.6 per cent, followed by Kenyatta University (30 per cent), Moi University (25.1 per cent) and Jomo Kenyatta University (19.8 per cent).
They were followed by Egerton (18.3 per cent), Maseno University (18.1 per cent), Mount Kenya University (17.1 per cent), Technical University of Kenya (10.2 per cent), Masinde Muliro University (6.9 per cent) and finally USIU with 6.2 per cent at the tenth position.
The top five private universities with the most employable graduate were Mount Kenya University (18.1 per cent), USIU (6.2 per cent), KCA University (6.1 per cent), Strathmore University (5.8 per cent), and finally Aga Khan University at 4.8 per cent.
On skills and competencies ranking, communication skills were cited as "very important" at 71.6 per cent by universities, among other 10 highlighted skills, followed by basic skills (68.66 per cent), decision-making skills (67.16 per cent), sector-specific skills (67.66 per cent), and team-work skills (44.78).
Others are analytical and problem-solving skills (73.28 per cent), right work-life attitude (38.81 per cent), ability to adapt and act in new situations (32.84 per cent), planning and organisation skills (28.36 per cent) and foreign language skills as the tenth at (4.48 per cent).
Majority of the universities surveyed (75 per cent) felt that the reputation and ranking of the university affects the employability of their graduates, but 30 per cent of the administrators that took part in this study disagreed with this position.
Major concerns
On whether overseas graduates are better at their workplace than locals, about 49.2 per cent of universities disagreed with this position while 50.8 per cent concurred with the view.
On whether university education in Kenya produced high-quality graduates, universities tied at 38.1 per cent for those that agreed with this assertion and those opposed.
The study shows the tie above illustrates that even within the academy, there are major concerns on quality of graduates produced locally.
A total of 60 per cent of universities agreed that courses offered in local universities are more relevant to employers' needs while only 12.3 per cent disagreed with this view.
On the flip side, only 38.1 per cent of universities claimed that the quality of university graduates is high. This means that as much as the courses are still relevant for the market, the efforts by universities to produce high-quality graduates have gone down.
The study shows the most employed graduates, 46.7 per cent, were from business and economic studies, with 11.1 per cent from engineering and 8.9 per cent from medical studies.
ICT and natural sciences accounted for 6.7 per cent of graduates while art and design accounted for 4.4 per cent while 2.2 per cent are from law, humanities and others.
About 50 per cent of universities (34 out of 67) demonstrated mechanisms to source internships for their students compared to 30 of them who didn't. Also, three of the universities interviewed were not sure they sought internships for their students.
The findings show 33 per cent of universities had records of their employed graduates compared to 67 per cent who did not. Most universities that had records of employed graduates were private.
Only 55 per cent of universities said they had at least one or more employment contracts (MoUs) with companies, organisations or institutions. Twenty-eight per cent did not have such agreements.