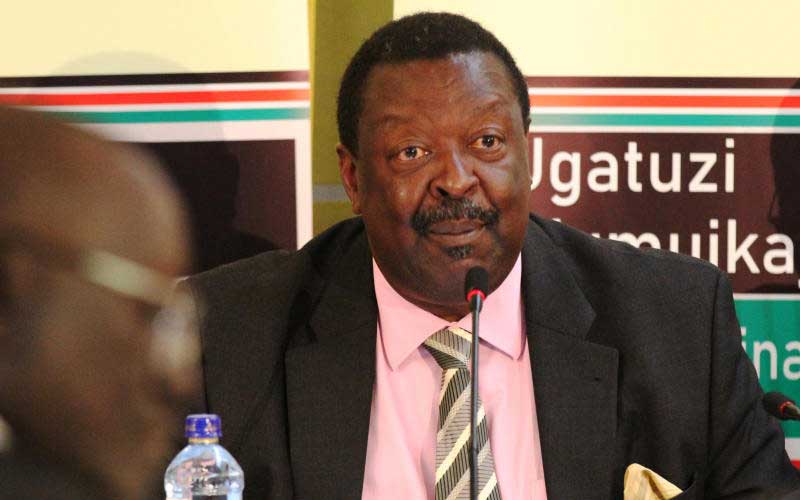 Amani National Congress (ANC) leader Musalia Mudavadi (pictured) wants the Education ministry to provide a clear road-map for the sector amid the Covid-19 pandemic.
Mudavadi said online learning was not effective since majority of learners could not access internet, radio or television.
He said lack of clarity on way forward could adversely affect 1.2 million Kenya Certificate of Primary Education (KCPE) and Kenya Certificate of Secondary Education (KCSE) candidates.
The ANC leader said many schools, especially those without structures to offer online learning, would not complete the syllabus ahead of the national tests.
"The state of education is worrying at the moment. We don't know of any measures the ministry has put in place for parents, teachers and learners to facilitate, equalise and monitor home learning," said Mudavadi.
"The fate of some 1.2 million KCPE candidates and 700,000 KCPE candidates hangs precariously in the balance," he added.
He said it was unfortunate that the Ministry of Education under Cabinet Secretary George Magoha has failed to provide way forward for learners and parents.
"Is difficult to come to terms with the reality that the Ministry of Education is this far still sending out speculative messages on the fate of learning; and especially on this year's KCPE and KCSE examinations," he said.
He added, "What the country needs from the ministry are definitive messages on the way forward."
Education Cabinet Secretary George Magoha on Sunday announced that schools will remain closed for another one month. He, however, maintained that the national examinations will go on as planned.
"I want to emphasize that for the past four weeks, students have been on normal vocation, an activity that ends on the fourth of May. During the intervening period, there will be many interventions that will depend on how the government controls this disease," the CS announced during a briefing by the Health Ministry on coronavirus.
But Mudavadi said making the candidates sit for the national examinations without proper coverage of the syllabus would compromise the integrity of the test.
"Syllabuses have not been covered and may not be covered. Our exam-based education is about syllabuses. We cannot change direction midstream, to pretend that all is well, when we know that exam syllabuses will not be covered," he said.
He asked the ministry, Teachers Service Commission and Kenya National Examination Council to form a team to come up with a proper plan to rescue the education sector from the effects of the virus.
"As the bug continues to remain with us, it is expected that the Ministry could get bona fide education stakeholders in a constructive dialogue to reflect together and plan," he said.