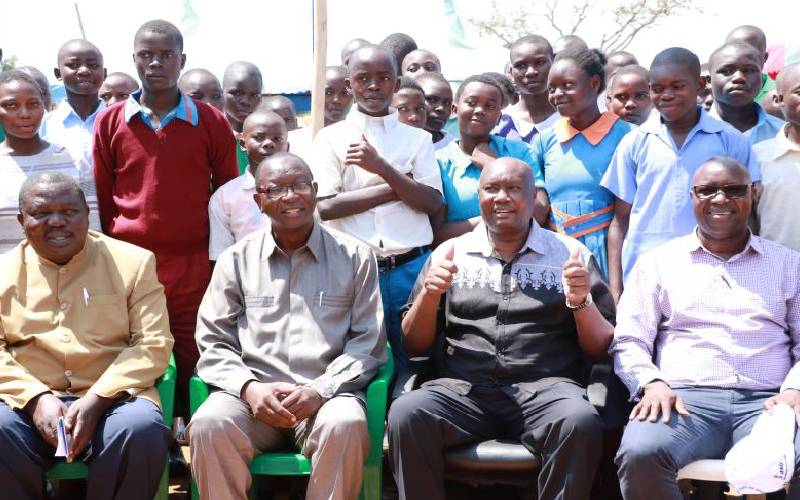 A group of fishermen in Busia County has donated more than Sh1.4 million of their savings to needy students seeking fees to join Form One.
At least 214 students who excelled in last year's Kenya Certificate of Primary Education (KCPE) examinations have each received Sh7,000 from the group in Budalang'i and Funyula constituencies.
The Sh1,498,000 was disbursed to the students last week in an initiative dubbed Beach Management Unit Education Scholarship.
The money was part of the profit the fishermen earned from the first harvest of fish in their cages. Governor Sospeter Ojaamong's administration launched the modern fish farming using cages last year and handed them over to farmers to manage them in Lake Victoria.
The new development followed depletion of fish in the lake and frequent arrests of local fishermen by Ugandan security officers, who accused them of using illegal fishing gears in the neighbouring country's territory.
Read More
Sh3 million earned
Timothy Odende, the director of fisheries in the county, disclosed that farmers realised Sh3 million from the first harvest last year.
According to Mr Odende, the fishermen agreed to have half of the money used to pay school fees and the remaining saved in their Beach Management Unit Sacco.
"The fishermen realised the need to give back to the society by donating some part of the profit they made to the pupils who performed well in the KCPE exams. It is commendable," said Odende.
Enos Makokha, 14, is one of the beneficiaries. He scored 354 marks in last year's KCPE at Nandekere Primary School in Budalang'i. He is set to join John Osogo Secondary in the constituency. He wants to be an engineer in future.
"My parents were unable to pay for my school fees, but at least with the Sh7,000, I have received, I have something to start with," said Makokha.
Nixon Otiko scored 364 marks at Sisenye Primary School. He will join Sigalame Boys High School in Funyula. His father Cleophas Otiko hailed the BMU for coming to his their rescue. "My son is now assured he is going to pursue his secondary education. I will ensure he goes to school," said Otiko.
Ann Ngaluri Mallo also got Sh7,000. She will join Sisenye Secondary School after attaining 302 marks in last year's KCPE, which she sat at Sisenye Primary School in Budalang'i.
Sylvester Kaiywa, the BMU County chairman, observed that fishermen had started seeing the fruits of cage fish farming.
"It is historic that for the first time the fishermen who have been known to be people who suffer are capable of making money without spending a long time in the lake," said Kaiywa.
There are more than 20 BMUs in Busia County, which borders the lake. Kaiywa stated that the pressure that was exerted on the lake because of over-fishing had since subsided. Frequent arrests of local fishermen have also greatly reduced, he added.
The introduction of the cage fishing saw fishermen restricted from entering the lake on fishing expedition reduced to three times a week. "We have had many projects, but it is the first time fishermen are giving scholarship to 214 students joining Form One in different schools under Busia County Beach Management Unit Education Scholarship," said Kaiywa.
The beneficiaries have received admission letters from secondary schools in and outside Busia County.
Busia Governor Sospeter Ojaamong' hailed the fishermen's initiative. "This is part of development we want to see. Fishermen have been known to suffer, but here in Busia they are earning and even educating needy children," he said.
He urged the 214 students to work hard. The BMU intends to educate at least 1,000 pupils from less fortunate families in the next four years.
Meanwhile, International Fund for Agricultural Development (IFAD) has offered to support aquaculture farming in the region.
This means Busia will become the fifteenth county to benefit from the IFAD's multi-billion shilling funding. Others are Siaya, Kisumu, Kisii, Tharaka Nithi, Embu, Machakos, Kiambu and Kajiado. Kakamega, Homa Bay, Migori, Kirinyaga, Nyeri and Meru also benefit from the fund.