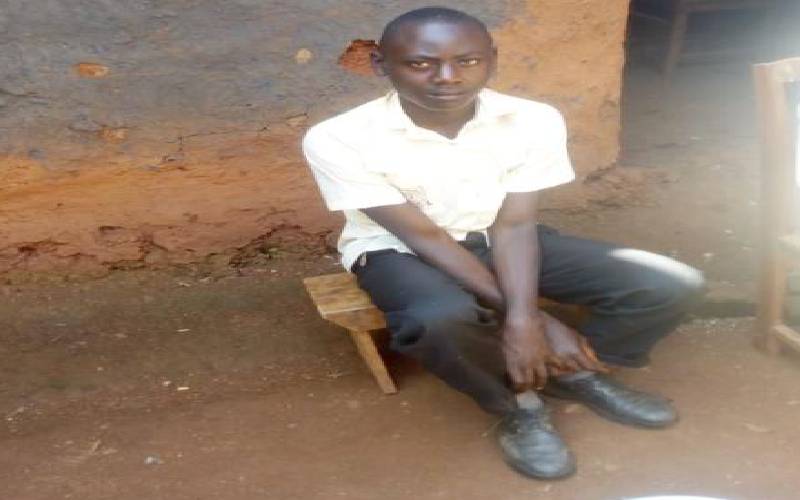 William Otunga was born in July 2002, two months after his mother, Isoyi buried her husband, Morris Otunga, at the entrance to her homestead in Ibusilwa, Ikolomani Sub-county.
Isoyi's pregnancy had not been easy. Her husband had collapsed one afternoon on the road, only half a kilometre from their home. To passersby, it was yet another sad case of alcoholism – Morris was known to like his glass of chang'aa after a day selling meat in Musoli market.
On this particular day, and 30 minutes after Isoyi and her brother in-law had carried Morris home, he hiccuped for the last time and died in a drunken stupor. He left Isoyi with four children: Eunice Muhabi, 10, Edwin Nandi, 8, Petronilla Alulu, 6, and Beverline Mutondo, 3.
William was still in his mother's womb. He was born two months later and grew up into his mother's back-breaking daily routine: fetching water, weeding sugarcane farms and harvesting maize for well-to-do families.
Isoyi did not receive anything from Morris' family, except for the half-acre piece of land handed down from her husband's father.
From this and the menial jobs, she struggled to put at least one meal per day before William and his siblings; struggled to see them washed, scrubbed and dressed to go to school and pleaded with the teachers at Munyanza Primary School to let them sit in class each day.
All along she fought off her brothers in-law who sought to inherit her.
Poor but intelligent, she kept hoping the children would one day put a smile on her face and did all she could to keep them in class. But suddenly things started going south.
Her first daughter, Eunice, dropped out of Ibwali Primary School at Standard 6, fell pregnant and got married to a man in Ugunja. With him she bore two children before succumbing to HIV/Aids.
Suddenly, Isoyi had two extra mouths to feed.
Isoyi's second child, Edwin Nandi, also dropped out of school. He remains at home, unemployed and still living off his mother at 26.
Her third child, Petronilla dropped out at Standard Six after falling pregnant, and, although Isoyi has struggled to see her train at Musoli Catholic Church's St Teressa Polytechnic as a tailor, she too – and her child – are still dependent on Isoyi.
Now she has only two promising gems left - Beverline and William.
Isoyi, an ardent church-goer, has been anxiously watching over the two. Over the years, she has pleaded with her children – those who care to listen to her – to accompany her to church at Shisende Church of God.
Beverline must have listened: She went on to pass her Kenya Certificate of Primary Education (KCPE) examinations with 346 marks at Munyanza Primary School and joined Shikunga High School where she is now in Form Three.
William sat his KCPE last year at Munyanza Primary School, scored 323 marks and won admission to Musingu High School.
But days after the form one reporting deadline, he is yet to report at Musingu. His mother cannot raise the Sh62,779 that the school is asking for fees, leave alone Sh30,000 that is required for books and uniform.
Perhaps it is the growing up without a father that has turned the 18-year-old to a believer, but William says this with a remarkable determination: "If I pray hard enough I will go to Musingu, and if I go to Musingu I will be a policeman."
However, by the time the sun set on Tuesday 21st, William and his mother were still waiting for a sign from God.