Three girls rescued from early marriage get scholarship from SGR firm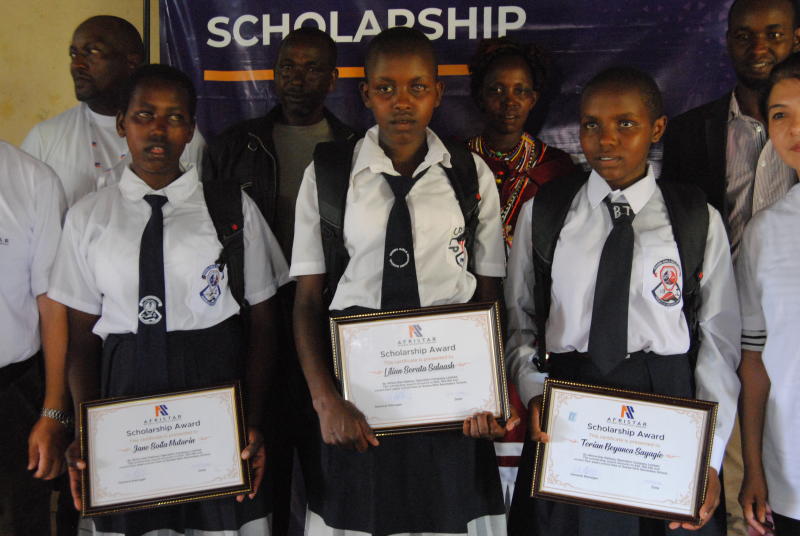 Three girls who were on the verge of being married off according to Maasai culture have received a new lease of life after getting a four-year full scholarship.
Lady Luck smiled on Lillian Serata Salaash, Jane Soila Mutarin and Terian Byanca Sayagie when Africa Star Railway Operation Company (Afristar), the operators of Madaraka Express, offered them full sponsorship at Suswa Girls Secondary School.
Sammy Gachohi, Afristar Deputy General Manager said they are supporting the girls as part of their Corporate Social Responsibility (CSR).
"One of the pillars of Afristar is education and wherever SGR passes, we have initiated life-touching programmes. This scholarship is not focusing much on the marks but giving a lease of life to children from poor backgrounds to access education," said Mr Gachohi as he handed the cheque to the school.
Salaash, 17, was frequently threatened by her father that she will be married off. She says despite living in fear for years, she stood her ground and chose education.
Salaash sat her Kenya Certificate of Primary Education (KCPE) exam at Senetoi Primary School in Narok East and scored 311 marks.
She says her father wanted to marry her off while she was in Standard Six but he failed. Two other attempts the following year failed too.
"I never knew I would join secondary school. I was forced to repeat Standard Six and Seven twice and at some point my father told my mother that there was no need for me to go to school and it was better to marry me off so they get wealth (cows) in return," Salaash said.
The same fate would befall her again last year after sitting her KCPE exam. There was no money and she was staring at another attempt to marry her off or repeating Standard Eight.
Her situation was complicated by the fact that she comes from a polygamous family of 18 children, all relying on the 12 family cows as the source of livelihood.
Mutarin's case was not any different. The 16-year-old scored 304 marks in last year's KCPE exam but her family wanted her to repeat. Raised in a polygamous family with 13 siblings, there was no money to take Mutarin to secondary school.
"I had to repeat Standard Six due to lack of school fees and was also set to repeat Standard Eight as the remaining few cows were reserved for my brothers' education. But I am glad my father was never tempted to marry me off," she says.
But the story of Sayagie, 14, epitomises the struggle that unmarried mothers have to endure to keep their children in school.
Sayagie's parents separated when she was young and the burden of bringing her up lay on her mother's shoulders.
He Fuhan, a Deputy General Manager at Afristar, said the company is committed to supporting children who have to encounter many obstacles to get an education.
Alice Esho, the principal of Suswa Girls Secondary School said the area residents are poor and apart from the three students sponsored by Afristar, other benefactors have come forward to keep a number of girls in school.
"I am very grateful to Afristar for considering this school for their scholarship programme. We look forward to further collaborating with the company to improve the learning environment of the school," Ms Esho said.
Narok County, which is predominantly a pastoral community, is leading in teenage pregnancies which is worsened by female genital mutilation (FGM) and early marriages, according to 2014 Demographic Health Survey (DHS).