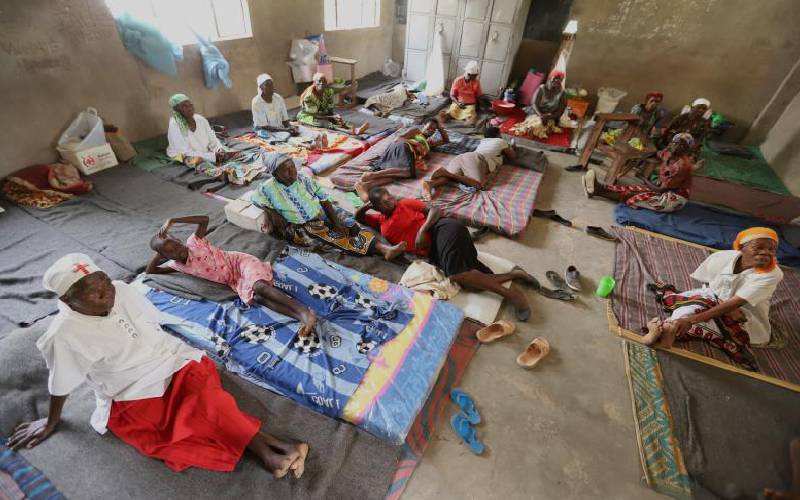 At least 4,000 flood victims in Nyanza region are at a loss as schools, where they are camping, reopen for first term today.
Heads of the affected schools last week gave the victims eviction notices, but a spot check by The Standard yesterday revealed that camps in at least six institutions in Kisumu and Homa Bay were still intact.
At Osodo Primary School in Karachuonyo, Homa Bay County, 19-year old Vivian Atieno was vividly shaken.
Atieno, who went to the camp on November 29 after their home in Chwowe village was submerged, delivered at the camp two weeks ago.
At least 400 households had sought refuge at the school, but some 209 have managed to return home after water subsided in their villages.
Read More
But Ateno is among the remaining 191 households which by yesterday were still trying to plead with the school head Walter Owino to give them more time.
"For me, in this state, I don't have much to do. I have had to just sit around and depend on my siblings and friends to feed me. The condition is not good for the baby, but what can I do?" she posed.
Victims' plea
According to Kennedy Ochola, the chairman of the camp, they are in discussions with the school to allow them to spend the night in classes and be moving their belongings to the school field during day time to allow pupils to learn.
At the neighbouring Kobuya Primary School, some 120 families are still residing there, down from the initial 179.
Camp chairman Francis Ombura said most of the remaining households are from the neighbouring Kolage, Konyilowa and Kabonyo villages that are still flooded.
Area chief Damianus Oywaya said they were trying to reach out to churches and other social centres to host some of the victims.
"We also advise those who have relatives to go there, while those who can afford rental houses in the nearby centres to consider renting for the time being," he said.
At Nyamasao Primary School in Nyando, Kisumu County, some 160 households were still at the camp.
Their homes in Kasirumbi South, Kanyipola, Kaloo and Kasambura villages are still flooded.
Still flooded
The same situation was witnessed in Ombaka Primary School where 63 families are yet to move out. The victims are from Giko, Tura and Wangáya villages which are still flooded.
Area chief Jacob Ong'udi said some of the families who received tents from Kenya Red Cross have been advised to move back to their homes.
Victims of landslide occasioned by heavy rains and now camping in three schools in Etago Sub-County, Kisii County, have also been asked to move out to safer areas to pave way for learning activities.
Etago Deputy County Commissioner Jackson Lechuta said the government has taken records of the 87 families that will receive aid.
Mr Lechuta, who was speaking on Friday at Nyasasa Primary School, urged the victims to set up tents in their compounds as they wait for support from the government.
He urged victims who have been camping at Nyasasa, Nyandiera and Nchoro Primary schools for the last three weeks to seek alternative places to stay so as not to interfere with learning in schools.
At Nyabworoba Primary School in Kitutu Chache North Constituency in Kisii County, 116 landslide victims are still camping there.
Marani Deputy County Commissioner David Saruni said the landslide, which affected 57 families, was occasioned by heavy rains experienced in the area in the last two months.
[Kevine Omollo, James Omoro, Edwin Nyarangi]