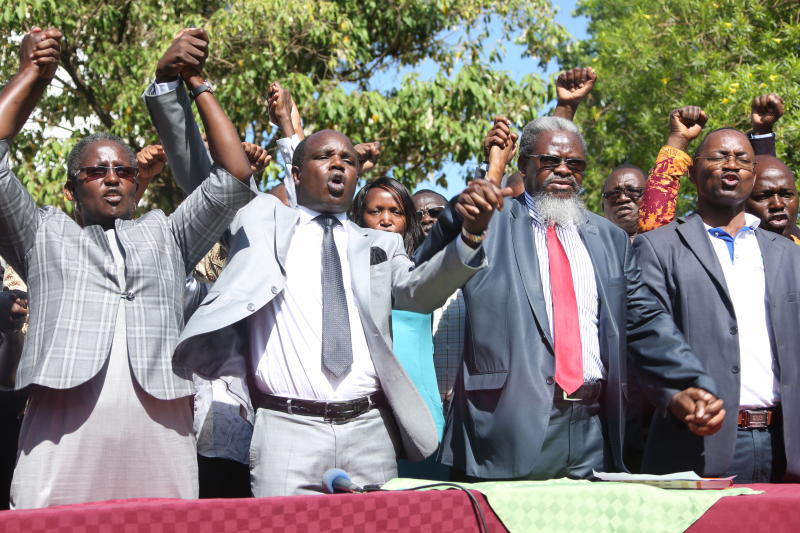 The Universities Academic Staff Union (Uasu) has threatened to call a strike if a collective bargaining agreement is not implemented in its current form.
The union also demanded that the government hires an independent auditor to verify what lecturers are collectively owed by their employer.
Universities and Uasu's simulation of the amount owed revealed that the institutions owe lecturers Sh13.8 billion. But the Salaries and Remuneration Commission (SRC) caps the figure at Sh8.8 billion.
Yesterday, Uasu Secretary General Constantine Wasonga warned of yet another strike if SRC fails to honour the 2017-2021 CBA.
"We want SRC to explain to us how they arrived at the conflicting figures. They are talking of Sh8.8 billion and we computed ours at Sh13.8 billion," said Dr Wasonga. According to Uasu, the figures are inaccurate and the officials want the Inter Public Universities Councils Consultative Forum (IPUCCF) and SRC to correct the anomaly.
"How can over 40 plus accountants who helped us compute and arrive at the figure of Sh13.8 billion be wrong as SRC would want us to believe?" Wasonga wondered.
He said the union was calling for a fresh audit of all staff in all public universities to ensure accurate remuneration of staff without hitches.
Down tools
"We are wondering where SRC got its figures from? Did they get it from the same vice chancellors that we also got our figures from?" he asked.
"Uasu's stand is clear that if they don't honour our CBA as was initially agreed and releases the full amount of Sh13.8 billion then we will down tools again."
Wasonga asked SRC and the Ministry of Education to convene a meeting and resolve the matter before it spirals out of control.
University of Nairobi Vice Chancellor Isaac Mbeche said the move will allow the institutions to implement pay increase for proximately 27,000 staff in public universities.
"There is no clear figure of the number of university staff. Sometimes the varsities talk of 27,000 and at times 30,000. We need a fresh audit to be exact," Wasonga said. Uasu said the CBA ought to have been negotiated and completed in June 2016 for it to be implemented on July 1, 2017 and run until 2020.
"The balance of the Sh13.8 billion was to be paid off in piecemeal. This is because the National Treasury pleaded with us that they didn't have money by then," Wasonga said.