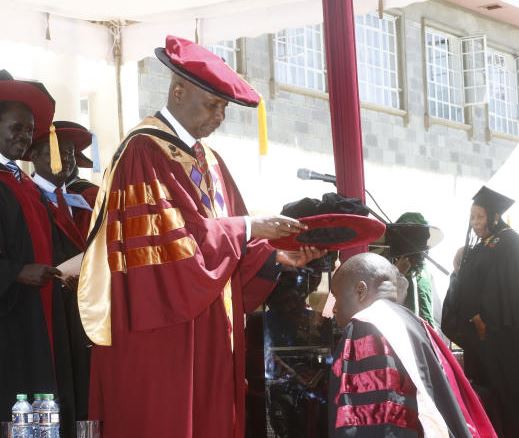 Kabarak University Pro-Chancellor Senator Gideon Moi has urged graduates to uphold truth and be on the forefront in the fight against corruption.
Speaking during the 15th graduation ceremony at the institution yesterday, he said corruption had adversely affected the economy and urged the new graduates to decline bribes and be persons of integrity.
"Corruption is the scourge that adversely affects the growth of our national economy. From each of you, we expect nothing but a character clothed with integrity and sincerity. In all your endeavors, consistently uphold the truth even when the truth is unpopular," Dr Gideon said.
"It may not be very popular to decline a bribe, but a person of integrity will enjoy blessings from God," he added.
Some 922 candidates were conferred with degrees and awarded diplomas by the university.
Read More
Among dignitaries who graced the occasion were Senate Speaker Ken Lusaka, Deputy Governors Caroline Karugu of Nyeri and Nakuru's Erick Korir, and Kanu Secretary General Nick Salat.
Gideon urged the graduates to embrace the values of integrity, excellence, professionalism, patriotism and being mindful of others' innovations and creativity.
The values, he said, will set them apart from the masses in the highly competitive world where employers, investors and clients seek competitive, intelligence and excellence from those who have gone through rigorous academic programmes and life.
He said they should always approach their tasks with the will to win, the desire to succeed and urge to reach full potential.
"If Eliud Kipchoge could prove that no human is limited,you can also prove that no human is limited in your area of specialisation," he said.
He said the university has trained the 922 to become top-notch professionals, to discharge their duties with expertise, decorum and care bearing in mind that "nobody cares how much you know, until they know how much you care"
The graduates, he said, should embrace patriotism and put the interest of the country before their personal gains.
He assured the university that its Chancellor, former President Daniel Moi and the board of trustees, will continue providing unwavering support.
Lusaka, who was the chief guest, urged the graduates to gain deeper understanding of devolution and contribute to the society more effectively.
West Pokot Governor John Lonyangapuo, who is the chairperson of the university's governing council, said they were sending to the world a well prepared work force that is competent to take up various responsibilities of service to humanity.