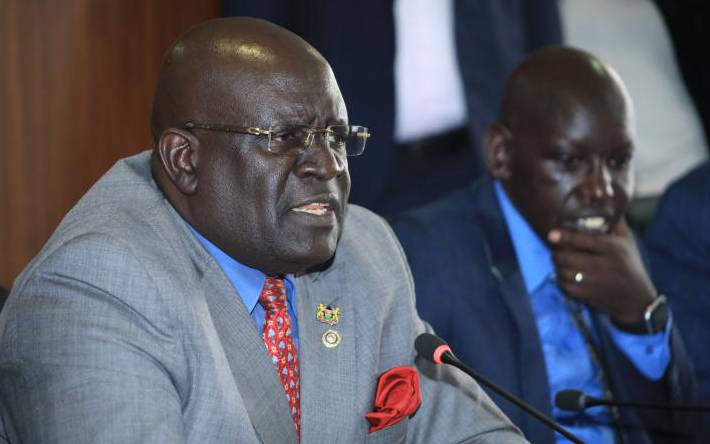 Parents of needy students joining Form One next year have up to December 16 to apply for Elimu Scholarship Programme, the Education Cabinet Secretary George Magoha has said.
Prof Magoha (pictured) said 9,000 Form One students would benefit from the programme in 2020.
The government plans to award scholarships to 18,000 needy secondary school students in the Sh3 billion programme.
Magoha said the ministry had already opened applications for the scholarships, funded by the Ministry of Education with support from the World Bank. The programme will be implemented through the Equity Group Foundation.
The programme, funded through the Secondary Education Quality Improvement Project (SEQIP), will benefit candidates from 110 sub-counties and 15 urban centres with informal settlements.
Magoha said the programme would boost the government's 100 per cent transition policy introduced last year.
"We are determined to utilise the Sh3 billion scholarship programme to further ensure that all the needy and vulnerable 2019 KCPE candidates gain admission to schools of their choice," Magoha said.
Equity Group Foundation executive chairman James Mwangi said the Foundation would ensure the selection was thorough and based on merit.
Dr Mwangi said 9,000 scholarship programme beneficiaries would be selected while 1,125 would be picked under the Wings to Fly Programme, bringing the total number of scholarships to 10,125 this year.
"We welcome the Elimu Scholarship Programme as it widens the opportunities for more children to access secondary school education and increase opportunities for a better future... We have seen the transformation the Wings to Fly programme has had on the beneficiaries, with most of them transitioning to universities," he said.
Under the programme, poor and vulnerable children from poor family backgrounds who attained 280 marks or above in the 2019 Kenya Certificate of Primary Education will be considered.
For affirmative action, orphans and those from vulnerable communities and those with special needs and disabilities who attained below 280 marks may be considered.
Only candidates who sat KCPE examinations in 2019 in public primary schools in the targeted areas will be eligible to apply for the inaugural cohort of 9,000 scholarships.
The list of the targeted sub-counties and the 15 urban centres with informal settlements can be accessed through the Ministry of Education and Equity Group Foundation websites: www.education.go.ke and https://egfdmis.equitybank.co.ke/register_elimu.