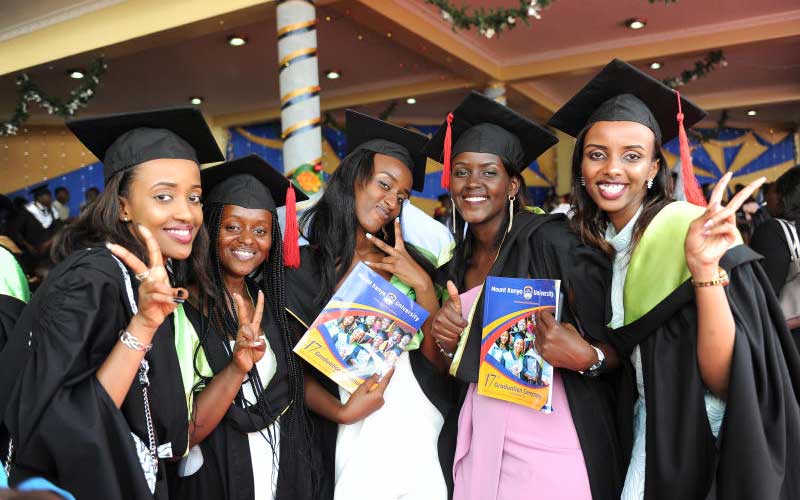 The dreaded universities reforms debate was awakened yesterday after Education Cabinet Secretary George Magoha seemed to trash a report presented to him by Vice Chancellors of public universities.
Months after he declined to receive the reforms report prepared by the Vice Chancellors, Prof Magoha yesterday gave the strongest indication on universities mergers in an elaborate restructuring plan.
Prof Magoha declined to receive report on Status of University Education in Kenya, challenges and way forward after its contents were leaked to the media ahead of his brief.
But in a speech he delivered yesterday during the 17th graduation ceremony at Mount Kenya University, Prof Magoha said staff rationalisation, universities mergers and staff cuts remains top of his reforms agenda.
On mergers already rejected by teaching staff and the VCs, Prof Magoha said his ministry will establish a system to rationalise all public universities by establishing a scheme for merging universities.
Under the plan, Prof Magoha said most of the existing universities will become colleges or campuses of a limited number of main universities.
"This would be similar to the practice in the UK with University of London System, the US with California University System and in Rwanda where all universities were merged and placed under an umbrella University of Rwanda system," said Prof Magoha.
In a tough statement, Prof Magoha said the creation of campuses from existing universities will pay attention to national development needs, relative value of existing infrastructure and resources, and regional balance.
"For example, in Mombasa there could be a focus on marine ecology and oceanography and in Turkana a focus on arid lands and oil studies, but all as colleges of one national university," said Prof Magoha.
The University Academic Staff Union (Uasu) has rejected the merger plan and even petitioned Parliament to intervene in the matter that they say would result in job losses and hopelessness among many Kenyans.
The union also moved to court arguing that the merger would go against the national education policy, the constitutional right to education and the requirement to have at least one university in each County.
In their report, Vice Chancellors pegged the merger on enhanced financing, which proposes a new students funding plan.
VCs said under new arrangement, the cost of training a student must be shared between the university, parents and the government– in a formula that funds an individual student per academic year.
This will do away with the current blanket allocations to the universities that does not give clear instruction on which programmes are being funded and for which students.
VCs argue the students funding will take care of tuition fees and salaries of lecturers as major capital developments get funding on needs basis and justification pitched by the respective universities.
But speaking yesterday, Prof Magoha seems to have rejected the proposals with reports indicating a fresh report would be generated spelling out clear merging plan.
Part of the reforms will be a review of university tuition fees and charges that will align with the cost of training for each programme in support of the Differentiated Unit Cost managed by the University Funding Board.
The plan will also include rationalisation of the number of programmes and the establishment of programme based Centres of Excellence.
"The total number of programmes offered in Kenyan universities in 2016 stood at 3,980. Public universities had 3,203 programmes (representing 81 per cent of the total programmes offered) while private universities had 777 programmes (representing 19 per cent of the total programmes offered)," said Prof Magoha.
The CS said rapid increase in university enrollment in the last decade has resulted in an increase in the number of academic programmes.
He said most universities have deviated from their core specilisations to offering sub standards programmes to make money.
"For example, Kenyatta University specialised in Education, Egerton in Agriculture and Jomo Kenyatta, science and technology. These institutions now offer numerous other programmes with only 30 per cent of the students being enrolled in the universities' initial niches," said Prof Magoha.
He said that even today, while all universities indicate their niche at the time of licensing, once they are established they move away from their original objective leading to duplication of programmes offered across universities.
"We shall establish centres of excellence and discourage duplication of academic programmes in universities," said Prof Magoha.
Under staff cuts, Prof Magoha said Kenyan universities are slightly above the UNESCO recommended levels of 1:30.
Yet, he said, there is no evidence that those teaching have been trained on pedagogical skills. Prof Magoha said there is need to reduce the ratio of teaching to non-teaching staff to 70:30 and improve terms of service for academic staff to reduce the need to teach in multiple institutions to make ends meet.