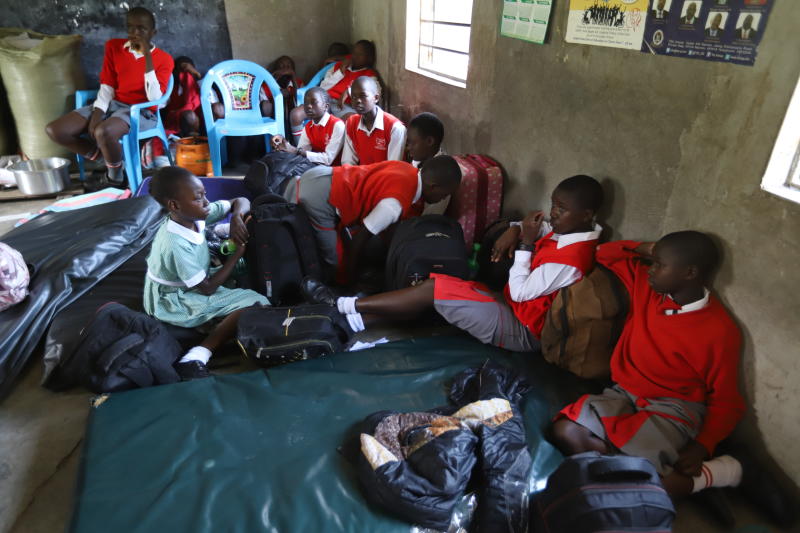 Candidates who sat for this year's Kenya Certificate of Primary Education examinations will not have to wait long for their results, Education Cabinet Secretary George Magoha has said.
Prof Magoha, who was speaking yesterday at Ayany Estate Primary School in Kibra Constituency at the end of the three-day exercise, said the exam results would be released as early as possible to help parents and students plan for the transition to secondary school.
"These particular results will be released long before Christmas. Why do we have to keep them when they are ready? We will prepare so that before the children go for Christmas, they will know the schools they will be going to so their parents can start preparing early."
A brief examination marking schedule prepared by Kenya National Examinations Council (Knec) acting CEO Mercy Karogo revealed that coordination and processing of the KCPE Insha and Composition test papers will take place between November 1 and 20.
The 2017 KCPE results were released on November 21 while last year's results were released on November 19 thanks to a new optical mark recognition marking machine acquired by Knec.
This means that this year's results could be released between November 19 and 24.
A Knec document also showed that 6,440 examiners will be invited to mark the test papers.
The CS said the Government had worked diligently to clean up the national exams that have been clouded by irregularities in recent years.
"We have managed to wipe out anxiety among many parents and teachers over the examinations. The number of exam malpractices has been reducing significantly," he said.
Magoha revealed that a few cases of cheating had been reported in Nyandarua, West Pokot and Garissa counties.
The CS was full of praise for security officers and Education ministry officials, saying that they had helped to prevent widespread cheating.
"Examination officials strictly enforced the measures that were meant to ensure total security of the exams right from the containers to the exam centres," he said.
Teachers Service Commission Chief Executive Officer Nancy Macharia said teachers who were arrested would have to explain their roles in the unethical practice.
Harsh weather
Magoha noted that exams in some centres started late due to harsh weather conditions caused by the ongoing heavy rains across the country, which have made some regions inaccessible.
He said the Ministry of Interior had access to 12 helicopters from the Kenya Police, which were on standby to facilitate the examination process.
"Some 20 centres started their examinations a little late on the first and second days due to delays in the delivery of examination papers. The delays were due to a few logistical problems associated with bad weather conditions and chopper operations."
On the issue of pupils giving birth during exams, Magoha said the number had dropped from recent years.
"We have received only ten reports of births by candidates. This is good news and I want to thank the parents and teachers. It seems we are advising our children well," he said.
Education Principal Secretary Belio Kipsang and other ministry of Education officials were also present at yesterday's event.
Magoha said focus now shifts to the Kenya Certificate of Secondary Education (KCSE) examinations that will kick off Monday next week.
Rehearsals for the exams, which Magoha described as 'real problematic', will be done today.
The CS urged State, security and ministry officials to "show up with the same energy from next week".
"The spirit of thorough exam surveillance will be enhanced during the KCSE exams," he said.