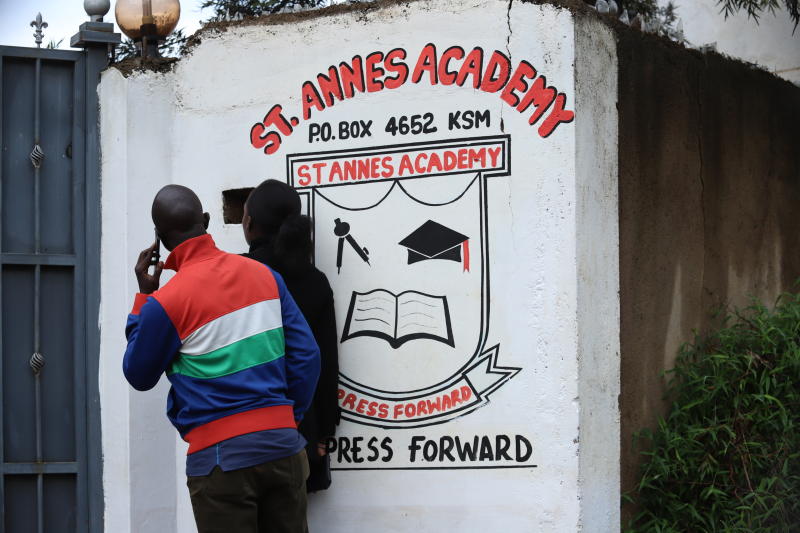 The Ministry of Education is investigating reports that some private schools secretly register 'weaker' candidates in public schools to enable the institutions get higher mean scores. One such school, St Anne's Academy in Kisumu was busted yesterday after it emerged it had registered 26 of its 46 KCPE candidates at a public school more than 15km away without the knowledge of the parents. Chaos erupted at the school in the outskirts of Kisumu after parents stormed the institution demanding to know why their children were not doing the examination at the institution where they have been learning. This was after it was confirmed the school, which had 46 pupils in Standard Eight, allegedly registered only 20 top performing ones at the centre and took the rest to Karunga Primary School in Miwani, Muhoroni sub-county.
SEE ALSO: Teachers reap big as private tuition thrives during closure
This, sources claimed, was to avoid tainting the school's performance ranking in this year's KCPE exam. The drama begun yesterday morning when two parents visited the school to ascertain the rumour which had been going round that their children were not in school. The parents overpowered the school watchman and accessed the compound after a push and pull at the gate, raising tension among invigilators and candidates. Joseph Otieno, a parent, said he had gone to school to check on his sickly son and ensure that he was fine ahead of the exam. "It is sad that there is word going round that our children are not in school yet we were here two days ago for prayers day," he said.
SEE ALSO: Private schools to get Sh7 billion from state
According to the parents, they saw their children last on Sunday, during the prayer day and the school management requested them to allow the candidates to be accommodated in school for the examination period so as to avoid any inconveniences. "Despite my boy being sickly, I was glad that he would only be away for three days, during the exam, and then be back home," he said. Headteacher Martin Kokiro declined to comment on the matter, saying he was new in the school.
Few months
"I joined this school a few months ago and those things were done before I came, so I advise that you look for the school director wherever you can find him," he said.
SEE ALSO: Ensure safety of students in community learning centres
The school management was, however, not available on phone for a comment. Kisumu County Director of Education Isaak Atebe yesterday confirmed that they had received information about the incident and had sent officers to the school. "As at now we do not want to interfere with the candidates who are already doing their examinations, and we are going to do our part and present our report to the relevant offices," he said. In Migori, a 13-year-old pupil at Break Through Academy threatened to commit suicide after he found his name missing from the KCPE register. The boy and his 20 colleagues had been transferred to the nearby St Joseph Ombo Primary School where they are sitting their exam. "On Monday, I was told to come in the morning to start the math paper and was shocked when I was locked out and never given an index number since the one I knew was missing," Odhiambo said. Boaz Oyoo, the director of at the school, said the institution was not registered as a centre and was recently closed down during crackdown on unsafe institutions hence the decision to transfer candidates to Ombo. "We took names of all candidates to the public schools, as an institution we played our part as we don't have any candidate," Mr Oyoo said. In Homa Bay, more than 50 education officials narrowly-escaped death when a bus transporting exam papers was involved in a road accident. In Mumias, parents at Muslim Primary School in Kakamega were also demanding answers after the school allegedly registered their children as private candidates in unclear circumstances The pupils are said to have been secretly-registered as private candidates on claims of having previously performed below average. Mumias West Sub county education officer, Francis Shikanda initially denied of knowing the case but promised to investigate.
(Report by Kevine Omollo, James Omoro, Olivia Odhiambo, Caleb Kingwara and Brian Kisanji)