Uhuru and Gideon join alumni as St Mary's marks 8 decades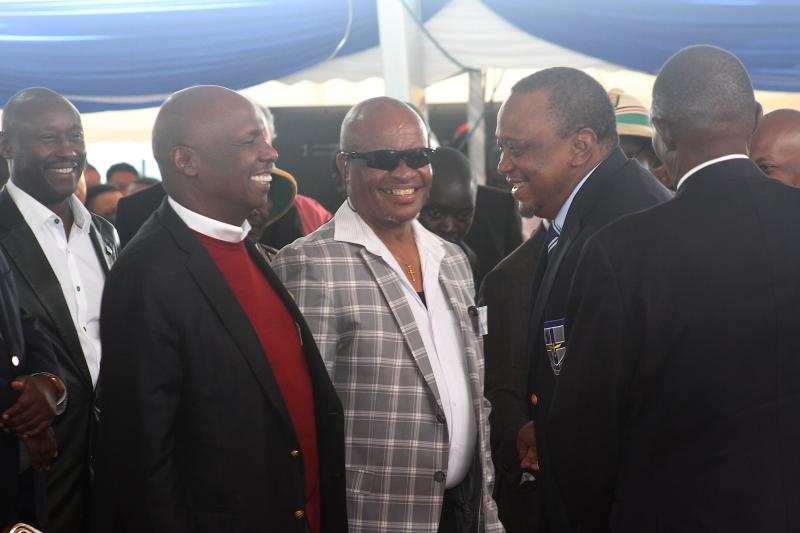 President Uhuru Kenyatta led the alumni of St Mary's School, Nairobi, in nostalgically recounting their times at the prestigious institution as former and current students celebrated 80 years since its inception.
It was a re-union of the "who-is-who" as the institution's old boys shared light moments, and recalled fond memories of the years they spent at the school.
The school has produced individuals who have excelled in various sectors, from politics to business and medicine among other fields.
Baringo Senator Gideon Moi was among the dignitaries during the celebrations that began in the morning and continued for the better part of the day.
Gone days
Songs, dances and jokes were shared in plenty as the old boys remembered the days they grew up struggling with teenage defiance of authority.
Uhuru and fellow alumni hugged each other while recounting the long gone days of their youth.
Businessman Jimi Wanjigi in his trademark smile was conspicuous.
President Kenyatta, who had just arrived from a regional meeting in Addis Ababa, Ethiopia, recalled the days he joined the school.
He was barely six years old but grew up at the institution until he completed his 'A' levels, alongside other prominent individuals.
The President talked of what he referred to as "days of terror" when they assembled every Friday to learn from the school head teacher whether they were in the list of those to face disciplinary measures.
"Back then, the head teacher would stand up there and he looked like a god," recalled Uhuru, amid laughter from his former schoolmates and guests as he pointed at the school's assembly point.
Donning a blazer complete with the school logo and tie, Uhuru joked of how he would get three canes from his dean whenever he was on the wrong.
"But it was not as bad as those taken by some of us. The likes of Tony Munene, who is smiling here, would get six of the best," he said.
In its earlier days, St Mary's was the preferred school for the children of influential Kenyans led by the country's founding father, Jomo Kenyatta, and his two successors Daniel Moi and Mwai Kibaki.
Yesterday's celebration was purely a St Mary's School alumni affair, with drivers and participants of the event being former learners.
The master of ceremony was television journalist Jeff Koinange, who was Uhuru's classmate. Other facilitators including the deejay and media organisers among others also studied there.
Better schools
Former students who have cut a niche in the society were acknowledged in absentia, with musician Eric Wainaina, Hollywood star Lupita Nyong'o and decorated rally driver Ian Duncan among the notable names.
The President asked alumni of schools to join hands and pool resources to assist institutions improve their infrastructure.
He said the infrastructural developments at St Mary's were the contribution of many people eager to see that there was a better learning environment for future generations.
"Let's put up credible framework to marshal resources to assist the school in improving libraries and other infrastructure. Institutions' histories are kept alive by people," the President said.