Why teaching new curriculum is an uphill task in some areas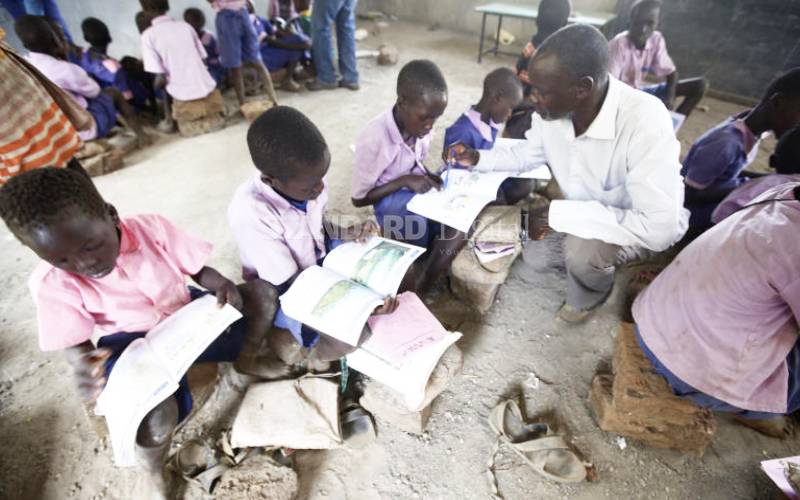 It is going to noon and Grade 3 at pupils at Paka Hills Primary School in Baringo County are in for environmental studies.
They sit pensively, shifting restlessly on the stones that are their seats.
The school, just like the rest countrywide, is trying to implement the new Competency-Based Curriculum (CBC). Resources, however, are proving to be a suffocating huddle.
To begin with, the school has only two teachers. Isaack Losute is not just the school's head teacher, he also handles five classes, from Early Childhood Development Education (ECDE) through to Grade 3.
His other colleague is down with malaria, and Losute is racing against time to have the more than 150 children learn a thing before classes end at noon. However, it is a tough call, both for the teacher and the learners.
"The CBC is a brilliant idea, but how can we fully implement it in such an environment? The curriculum is demanding and for it to bear fruit, we need more resources," he says.
ECDE section
The school's ECDE section, which has 112 children, has no teacher, while the primary section that runs from Grade 1 through to Grade 3 and currently undertakes CBC, has only two teachers.
Besides lack of teachers, the school's infrastructure is near nil. All the 112 ECDE learners are crammed in one class, Grade 1 and 2 pupils share a class, with learners facing opposite directions.
Grade 3 learn under an iron sheet structure, which also forms part of a store for books and learning materials. The staff room is a shade under a weather-beaten tree that barely protects them from the scotching sun.
The school does not have a single toilet, and calls of nature are answered in the bush.
For Losute, only stubborn hope keeps him going.
"We have a challenge, a big one, but learning must go on, these children must compete with others across the country if we are to change our community in future," he says.
While the ambitious curriculum has received praise for molding all-rounded children, implementing it in schools like Paka Hills is an uphill task.
Like other lessons under CBC, environmental studies are supposed to be practical, with the teacher taking learners through ways of ensuring cleanliness and hygiene. But even the most well prepared lesson comes to naught when there are no teaching aids.
"The curriculum is great, we teach children on importance of keeping the environment clean and hygiene, but how can you even teach them this when the school does not have a toilet?" says Losute.
And while CBC promotes integration of Information Communication Technology (ICT) in teaching, this remains a pipe-dream at Paka Hills. The only subject in which pupils shine here is creativity-it takes a lot of this to survive in this environment.
"Our children are exposed to a tough environment. But they are active in activities that call for creative thinking," says Losute.
According to the head teacher, most of the pupils only turn up for school because of the promise of a single meal. As soon as the food rations dry out, the pupils vanish.
Congested classrooms
The situation is not different at Tuwo Primary Schools. Here all ECDE and Grade 1 pupils are crammed inside one classroom facing opposite directions. Grade 2 pupils are crammed in a store, while Grade 3 and 6 share a classroom. Grade 4 pupils occupy what was once a staff room, edging out teachers, who now sit under a makeshift shed.
"It is very congested, we hang our bags on a tree because we had to give up our room to the pupils," says Neddy Kipng'etich, a teacher.
The school has three teachers. Every day, two of them teach inside one classroom at the same time, but handling different classes.
The school does not have a single toilet.
Teaching here takes more than just work.
"I have to write on the board so that the children can read out aloud," says Mr Kipng'etich.
Besides, getting parents to participate in their children's learning process is near impossible.
"This CBC requires parents' involvement, but they neither help their children with their school work nor attend meetings," says John Chesire, a Grade 3 teacher.
He admits that the just completed Grade 3 tests posed a major challenge. "I had to travel 50km to Marigat to download test papers and to send the results," he says.
Samson Rotich, the head teacher at the school, said the biggest challenge to implementing CBC lay in lack of resources, poor infrastructure and lack of cooperation between parents and teachers.
Most of the learners, he said, often drop out of school to herd their parents' cattle and goats. The number of pupils in class is determined by availability of food. "Whenever there is no food, enrollment drops by almost half," says Rotich.