100,000 teachers trained on new curriculum, says Magoha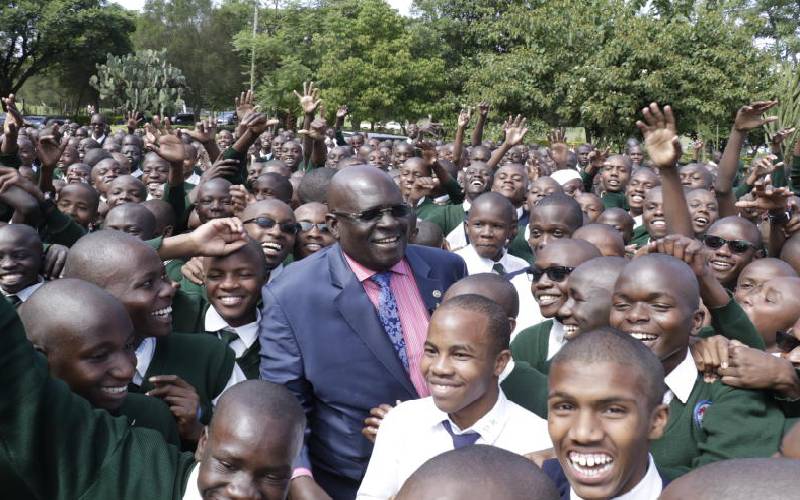 At least 100,000 teachers have been trained to handle the Competency Based Curriculum (CBC), Education CS George Magoha has said.
Prof Magoha said the teachers would be trained further next month to improve their competency to spearhead the new system.
He said implementation of CBC was on course, noting an assessment by stakeholders had shown a lot of progress.
"The ministry wishes to assure Kenyans implementation of CBC shall continue. But we are also ready to hear views from stakeholders," he said.
The CS spoke at Nakuru High School during the launch of the 2019 CBC quality dialogues, which took place simultaneously in Kisumu, Kakamega, Nyeri, Embu, Garissa and Mombasa.
Through the dialogues, stakeholders will be looking at ways of reducing school dropouts and improve literacy and numeracy skills. They will also seek ways to align training of teachers to CBC.
The education quality dialogues will run until Friday next week.
Magoha said they would ignore those out to interfere with implementation of the curriculum. Some stakeholders claim it is being rushed and implementation being done illegally. "Without fear of contradiction, I want to assure you CBC is working. Let's not listen to prophets of doom. They are led by malice," he said.
Magoha said some teachers had complained of lack of skills and knowledge to implement CBC and added that the Government was addressing the matter.
The Government has allocated Sh300 million to improve infrastructure in schools in readiness for CBC.
CBC task-force chairman Fatuma Chege said the curriculum had worked elsewhere and that she did not see why it would fail in Kenya.
She said the task-force was also working with parents and teachers to improve education.
Higher Education PS Colletta Suda expressed optimism that implementation of CBC would be a success.
Prof Suda, who spoke at Kisumu Girls High School, said the ministry would continue to dialogue with stakeholders for successful implementation of CBC. "We have engaged stakeholders from different sectors to give us their views on how best to implement this system of education," said Suda.
During the meeting, stakeholders complained of shortage of teachers that they said continued to affect the region.
Regional TSC director Francis Ongware said: "We have 36,497 teachers in the 3,890 primary schools in the country, which translates to a shortage of three teachers per school."
Basic Education PS Belio Kipsang, who spoke in Nyeri Primary School, said the ministry was ready to roll out Grade Four curriculum in January 2020.
Kipsang said training of Grade Four teachers would be in August and December. "We are getting to the most critical stage of CBC. We want to ensure everything goes well because Grade Four has a lot of technicalities, unlike Grades One, Two and Three," he said.
He added: "We are moving away from activities in the lower levels and getting into acquiring high level competencies."
Stakeholders were drawn from Kirinyaga, Nyeri, Nyandarua, Kiambu and Murang'a counties.
Teachers Service Commission chief executive Nancy Macharia, speaking in Shimo La Tewa High School in Mombasa, said the forums would accord stakeholders an opportunity to assess implementation of recommendations of the 2018 dialogues at county level.
"We will also engage stakeholders in discussions on specific issues raised by studies with a view to coming up with national, regional and county-specific interventions towards improvement of learning as well as conditions of learning under the CBC," she said. [Mercy Kahenda, Rehema Kiteto, Anne Atieno, Byrone Roche, Jacinta Mutura and Philip Mwakio]