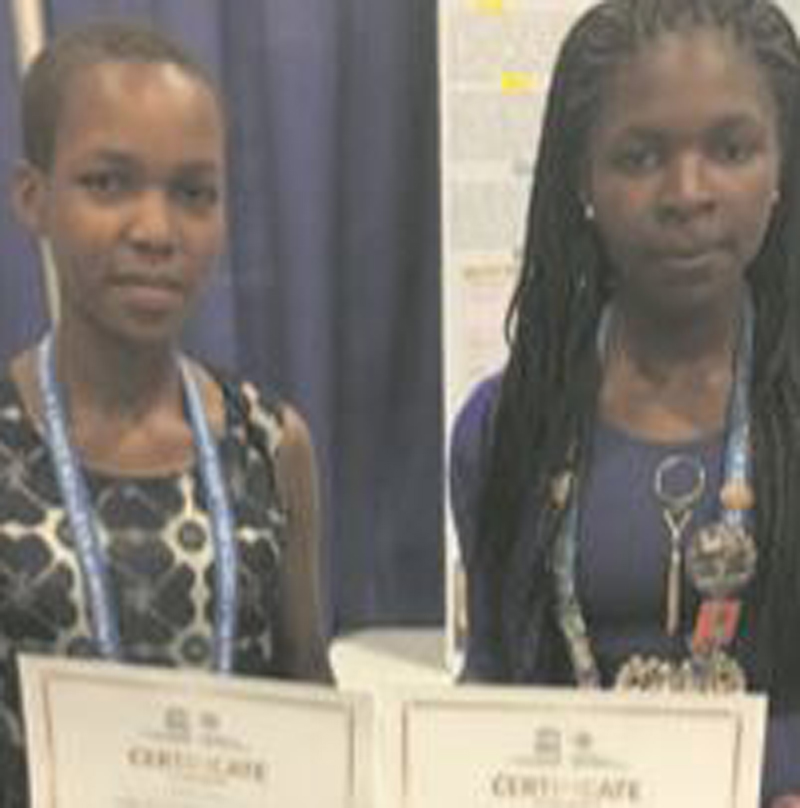 A project by two students from a humble day school in the rural areas of Njoro sub-county that cost them Sh100 won at an international science fair in the United States of America.
One has to endure dusty roads and a rough terrain to get to the humble school in the semi-arid Lare area but two students from this institution and their teacher have competed in the world's largest international pre-college science competition and made the school popular globally.
The school was to participate in the international competition last year but could not afford the airfare for the two students and their teacher.
The project by Esther Amimo and Salome Njeri of Keriko Day Secondary School scooped the first United Nations Sustainable Development Goal Award as an outstanding research venture despite the fact the school has an ill equipped laboratory among a myriad of other challenges.
The duo bought materials to work on their invention that aims at helping people living with visual and hearing impairments solve mathematics queries at Sh100 and adequately captured the MDG's target of objective of transforming the world for persons living with disabilities.
They innovated a device that helps in measuring angles and distances and also be easily used by people with visual and hearing challenges.
They worked on their invention under the stewardship of their teacher, Bro Peter Tabichi who is also the Sh100 million Varkey Foundation Global Teacher Prize 2019 winner.
A month ago, the country was abuzz with celebrations as it celebrated Bro Tabichi's win and being the first African to bag the award. The duo beat over 1,800 finalists from 75 countries that were competing in different categories and bagged Sh200, 000.
The project dubbed "Essameter at this year's Intel-International Science and Engineering Fair" was held at Phoenix in the US and honoured at the special award ceremony sponsored by the United Nations Scientific and Cultural Organisation in collaboration with Junior Academy of Sciences.
It has been a long journey for the two girls with their project, Essameter which represents initials of their names, Esther and Salome. Last year, no one could believe a project from little known rural day school was ranked top in the 56th Kenya National Science and Engineering fair under Mathematics category.
Amimo said one can use the calibrated devise to measure distance in a simplified manner and has an alarm which rings when a set target is achieved making it very easy for the challenged persons.
Njeri said they got almost all materials from school and their homes adding that she was glad that innovation was recommended for use in schools including those for students with visual and hearing impairment.
"The world is looking for the ways of ensuring that the needs of all people including the physically challenged are addressed therefore our project is recommended for use in learning institutions including the schools for the blind and deaf," she said.
Njeri said they wanted to invent a gadget that would heal people living with disabilities learn and enjoy mathematics.
The school head teacher Mr Daniel Mwariri said the school was participating for the first time at an international stage and the win came as a pleasant surprise to them.
He added that the nomination to compete at the global level was humbling and an eye opener to how far innovation and proper facilitation can take a people.
"It is a thrilling experience to bring students all the way to stand and show the world what they can do and motivating to see them shine," Mr Mwariri said.
The global science fair is the world's largest international pre-college science competition and brings together top young scientific minds from over 75 countries who showcase their independent research projects and compete for US dollars 4 million in prizes.