Multi-million shilling facilities idle as youth snub craft courses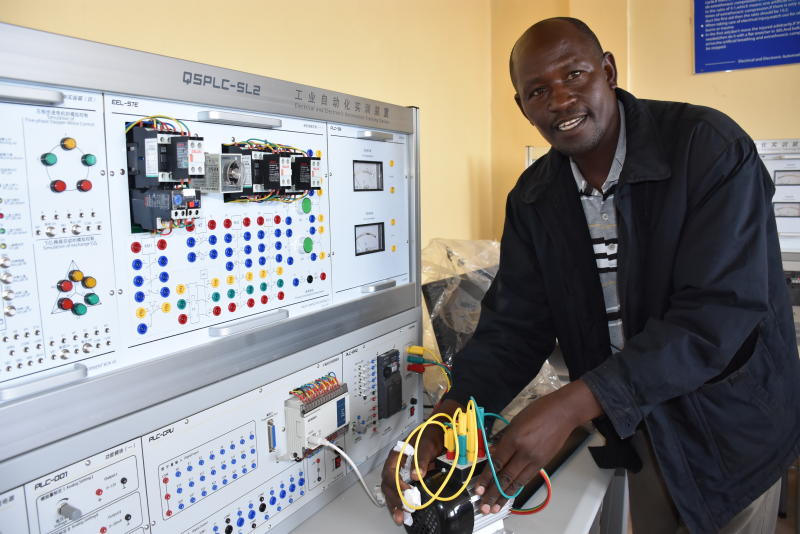 A walk on the hallways of Laikipia East Technical and Vocational College evokes feelings of isolation.
This ambitious institution that should be brimming with life has instead become a pale shadow of what it was meant to be.
Its halls that are supposed to be noisy due to clanking of machinery are silent.
Comfortable seats placed next to each control dashboard to enhance a relaxed environment for students during practical lessons for electrical engineering classes are a pointer to what should actually be happening.
Gathering dust
A demonstration desk is the focal point of the room with a new projector, covered computer monitor and a projection whiteboard suspended on the wall for lectures.
The impressive arrangement of the apparatus in the spacious workroom has not been interrupted seven months after the facility was opened.
The image of the lab replicates in other three workrooms at the facility which from outside appears to have much to offer but it just mesmerises since it is yet to serve its purpose.
Some machines are still in cartons in the facility's stores, others are accumulating dust in the lecture rooms.
John Warui, a store keeper, spends much of his day keeping watch and wiping the dust off the multi-million equipment meant for electrical and electronic engineering.
"This is what I do every day. I report in the morning to check on the equipment and make rounds to ensure they are safe.
"It is unfortunate that this facility has everything students would require but none have enrolled," Warui says.
Equipment worth Sh160 million lie idle at the facility as students shun technical and craft courses. The vocational college can take in 500 students.
A similar establishment lies at Posta in Mouwarak in Laikipia North. The school is fully equipped and Sh140 million was pumped in for renovation.
Prospective students
A Sh150 million equipment for training in mechanical engineering lies idle at the institution as there are no students.
Although the two facilities are located about 20 metres from the road, prospective students identified their location as a key constraints leading to failure on enrollments.
Despite millions pumped into the centres, accommodation for students was not considered. The Government has no plans to build hostels.
The one in Mouwarak is located on the Rumuruti-Maralal highway while the one in Laikipia East is located at Marina on Nyeri-Nyahururu Highway, where residential buildings are a major challenge.
Courses the institutions should be offering include electrical and electronic engineering, mechanical engineering, building technology, cooperative management and information communication technology (ICT), all at artisan, craft and diploma levels.
Concerned with the situation, Governor Ndiritu Muriithi has rolled out plans to market the institutions in an effort to put into use the gigantic facilities.
The county boss intends to utilise the August holidays to lure youths from across the county through a campaign dubbed Rapid Improvement Programme in Education (RIPE).
The month-long campaign is targeting to enroll 1,000 students to the two institutes.
"We agreed with school heads to use more social strategies to attract students.
"They should make announcement in churches, family meetings, social gatherings and hold sessions with school leavers to enlighten and encourage them to enroll," said Muriithi.
Community meetings have been arranged in Mkogodo West and Mkogodo East areas to market the courses in the villages.
Form-four leavers have been asked to carry their result slips to the meetings for enrollment.
Speaking at a Maasai cultural event in Arjijo, elites from the community pledged to scout for at least 100 youngsters from the region and see them join the institutions.
Idle youth
Governor Murithi has urged parents to encourage their children to enrol for these clases instead of idling around.
He said skills in plumbing, carpentry, welding and mechanics are in high demand.
Lack of hostels, the governor said, is an opportunity for investors to build residential houses for students.
Simon Ngatia, the principal of Laikipia East Technical College, attributed the near nil enrollment to stigmatisation of technical institutions as places for those who fail to attain qualifications to join university.
"The workshops and laboratories are fully equipped for training but the institutes are crying for students.
Technical institutes are not meant for Standard Eight leavers but anyone who wants to pursue the courses offered," Murithi said.
To encourage enrollment, the national Government has introduced a Sh30,000 capitation for every needy student joining technical institutes, and reduced the annual fee to Sh56,420.
Paying the remaining Sh26,420 has also been made easy as those eligible for loans can get as much as Sh40,000 from the Higher Education Loan Board (HELB).
Needy students could also get bursaries from the board.
Meanwhile, statistics from the county reveal shocking details on transition gaps from primary to secondary education levels.
Laikipia County Statistical Abstract indicates that in 2017, only 590 students enrolled in the 10 technical training institutes (formerly called youth polytechnics) despite each of them being capable of holding at least 400.
Among the enrolled 590 students, 443 were male. Only 147 females were admitted in the same year.