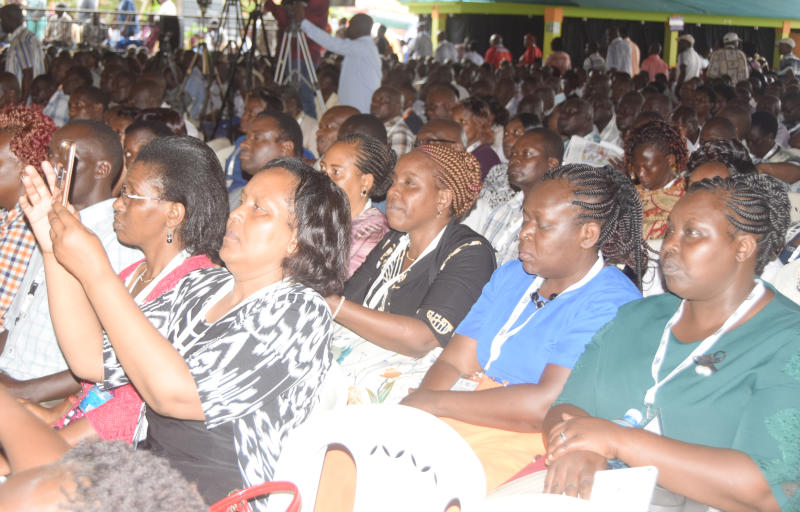 School principals now want the multi-billion shilling teachers' medical scheme deal with AON terminated.
The head teachers said the services being offered by the insurer did not match the cover offered by the National Hospital Insurance Fund (NHIF).
Kenya Secondary School Heads Association chairman Indimuli Kahi described the students' medical scheme as superior to what was being offered to teachers.
"Many head teachers here say the NHIF cover for students is by far better than what AON is offering us. We are telling the Teachers Service Commission (TSC) to end the contract and get us into NHIF," said Mr Indimuli yesterday.
The TSC contracted AON in 2015 to manage the Sh6 billion medical cover for the more than 700,000 teachers and their dependants across the country.
Despite facing criticism, AON has in the past blamed individual hospitals for offering poor services.
The school heads also criticised the TSC directive that pregnant girls would not benefit from the medical scheme.
"Government's directive is clear that pregnant students cannot be suspended from school. We will not accept the directive to deny them medical cover," said Indimuli.
The principals also called on the Government to disburse Term Two arrears for the free day secondary school programme.
"As we speak, schools have received only 12 per cent of this term's capitation. The Government is yet to disburse Sh6.3 billion owed to schools," said Indimuli.
Student scheme
Meanwhile, more than 600 students have received medical treatment courtesy of the Government-funded health scheme.
A list of beneficiaries revealed that hospitals in 18 counties had treated learners under the Sh4 billion comprehensive medical cover administered by NHIF.
Vihiga County has the highest number of beneficiaries, with 276 students treated in six health facilities. Another 82 students have been treated in Taita Taveta and 75 in West Pokot.
Kisumu, Uasin Gishu, Nyamira, Narok, Nyandarua, Nairobi, Narok, Mombasa, Kericho and Bomet have also registered cases of students accessing treatment under the multi-billion shilling health scheme.
Learners in Marsabit, Laikipa, Kiambu, Elgeyo Marakwet, Kilifi and Kwale also visited hospitals.
Geoffrey Mwangi, NHIF's CEO, yesterday said the Ministry of Education had forwarded the names and details of 1.7 million students - as filed under the National Education Management Information System (Nemis) - for registration.
Addressing more than 8,000 secondary school heads in Mombasa, Mr Mwangi said the registration process had begun, adding that NHIF branch officials were currently carrying out biometric registration of students in the schools and issuing medical cards.
The CEO noted that students without cards were accessing health facilities using introduction letters issued by the school heads and containing their Nemis unique personal identification numbers.
Nemis database
"The status of the NHIF card can be searched using the unique personal identifier number generated in the Nemis database using SMS query number 2110."
Education Principal Secretary Belio Kipsang said all students with Nemis registration numbers could access medical services.
The medical package covers all students in public secondary schools. It grants them access to outpatient services at the nearest health facilities, with plans underway to establish clinics in schools.
The principals demanded that NHIF should build and equip school sanatoriums, and employ nurses and clinical nurses to guard against exploitation of the scheme by private facilities.
"We should guard against student absenteeism. We do not want to have cases where students are admitted because the hospitals want to benefit from the cover," said Indimuli.
Mwangi said the NHIF management had met with 650 healthcare providers to lay down procedures and modalities of ensuring smooth delivery of services to the students.
The targeted three million students can, however, access services in more than 5,000 accredited medical facilities.
Mwangi asked the principals to support the scheme, which was launched by President Uhuru Kenyatta to fulfill the health pillar of his administration's Big Four development agenda.
"I call upon head teachers to support us in this process towards the realisation of affordable and accessible health coverage," he said.
Finer details of the health cover show that students will benefit from outpatient and inpatient services, dental, optical, daycare services, and road ambulance and emergency air rescue services.