Varsity strike looms as Uasu heads back to court over pay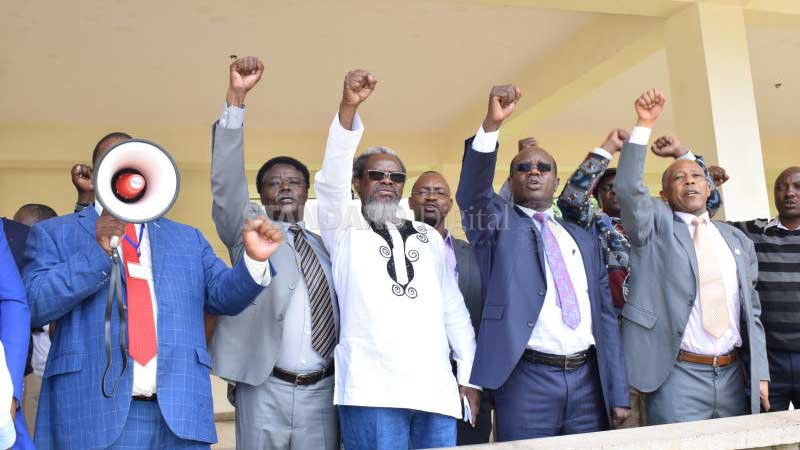 A fresh round of university staff strike looms as unions plan to return to the courts over pay increment row.
Sunday Standard has established that the University Academic Staff Union (Uasu) will file a case at the Employment and Labour Relations Court to demand a fresh offer from the government.
The union officials said the Ministry of Labour already issued them with a Certificate of Disagreement, signaling a potential start of another strike 'anytime.'
"As things stand now we can do whatever we want. We can call a strike. We are not done yet and no one should be fooled," said Uasu Secretary general Constantine Wasonga.
Wasonga said the certificate was filed at the court last Thursday.
Yesterday, he confirmed that the union will move to court to file an economic dispute.
"Let them not sit pretty. We are bouncing back. It is a lull before the storm," he said.
The Uasu secretary general disclosed that the union lawyers are working to file the case on Tuesday to demand a fresh offer from the universities.
"We rejected the 1.75 per cent that they offered us and we want a realistic offer. Courts have granted Collective Bargaining Agreements (CBAs)" and we are not sleeping," said Wasonga.
Vice Chancellors Committee chairperson Francis Aduol however denied knowledge of the legal action.
"As universities we are ready to start talks as soon as they are also ready," said Prof Aduol.
The union called off the strike without a solid CBA.
The government only offered a pay rise of 1.75 per cent, translating to an annual pay rise of 0.435 per cent for all the 28,000 university workers for the entire four-year CBA.
Wasonga termed the offer humiliating and total disrespect to the teaching staff and warned that they will fight back.
To fight drought, involve communities
According to the latest information from the Meteorological Department, rainfall will be poorly distributed in April, May and June, and this will have a serious impact on agriculture