How ministry pushed broke universities staff to a corner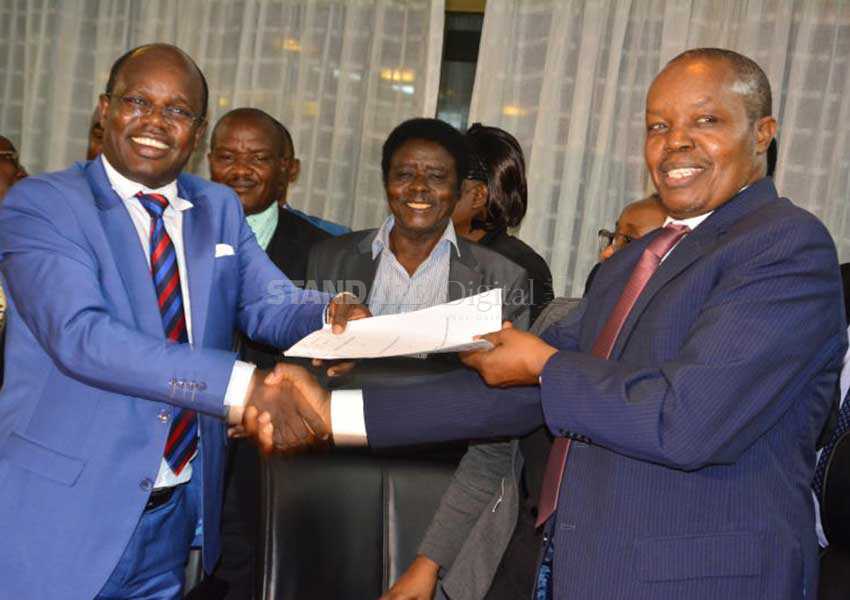 Broke university workers are trooping back to work without a solid salary agreement after boycotting duty for nearly three months.
University workers called off their strike Thursday, even as they protested the meager salary offer in a development that marked a major win for government.
All public universities will now reorganise their academic calendar to cover for lost time, further delaying graduation ceremonies for thousands of students.
This means examination timetables will change as additional time will be allocated to complete academic work.
Hard-line stand
"The strike has ended. All members to go back to work and leave the union to handle matters of salary," said Constantine Wasonga, University Academic Staff Union (Uasu) Secretary General.
Ministry of Labour conciliator Hellen Apiyo brokered the deal. Saturday Standard established that the hard-line stand by the government and the threat to sack staff who absconded duty despite court orders pushed the unions to arrange a safe exit strategy.
"We have called off the strike not because we are happy but because we care for the 600,000 students in public universities," said Wasonga.
Inside sources however revealed that reality of court orders, poor results of backroom lobbying and mounting threats to sack staff sent panic across top union officials.
Further, revelations that 80 per cent of university staff had resumed work signaled a major challenge to the unions even as they wore straight faces of solidarity.
"They were going to lose out big time and the decision they have made is the best for them. For now they can start negotiations," said an insider who attended the Ministry of Labour conciliation meetings.
Universities agreed not to punish staff who boycotted work and both parties also agreed to withdraw court cases pending in court.
"There will be no victimisation of members of Uasu arising from the industrial action. There will be no job loses and no loss of benefits," reads the agreement signed by both parties. It also emerged that the unions miscalculated the timing by calling their members to strike prematurely.
Counter offer
Government and union officials who spoke yesterday said the union should have called strike after seeing the government's counter offer.
An earlier court order instructed that the negotiations be completed within 60 days, inclusive of 30 days for the government to table a counter offer.
"We called members out too early even before we knew what the State had. We should have gone on strike now to reject the meager offer," said a top union official who asked not to be named for displaying dissent.
Vice chancellors, through the Inter-Public University Councils Consultative Forum (IPUCCF), had requested Sh6.8 billion from the government as a counter offer.
But Education Cabinet Secretary Amina Mohammed set up an inter-ministerial team to craft an acceptable offer.
And after several weeks of work boycott that paralysed learning in public universities, the ministry gave a pay rise of 1.75 per cent.
The Sh3.6 billion offer translates to an annual pay rise of 0.435 per cent for all the 28,000 university workers for the entire four-year 2017-21 Collective Bargaining Agreement (CBA).
Finer calculations reveal that this is a minimum rise of Sh53 for the lowest cadre university workers and Sh1,000 for the highest paid staffs.
General staff who fall under Kenya Union of Domestic, Hotel, Education Institutions, Hospitals and Allied (Kudheiha) would get an increase of Sh212 after full implementation of the deal.
Counter offer
The salary of the lowest paid Kudheiha staff will increase from the current Sh12,100 to Sh12,153 by end of first year of the CBA. When the fourth year comes to a close, this worker will earn Sh12,312.
The least paid Kusu (I) workers (clerks and secretaries) would get an additional Sh85 at the end of this year.
Their pay will move up to Sh19,493 from the current Sh19,408 by close of first year. This pay will rise to Sh19,748 by end of fourth year.
Kusu (II) workers, (administrative staffs upper scale), will get a total increment of Sh4,355 after the four-year agreement. The highest paid teaching staff (full professor) under Uasu will have an additional Sh1,081 at the end of this year, translating to Sh4,355 after the four-year deal.
The full professor who currently earns Sh248,898 will get Sh249,979 at the end of this year, with the pay going up to Sh253,253 by end of CBA.
The unions had demanded a counter offer to their Sh38 billion proposal for the entire 2017-21 CBA.
Uasu and Kusu proposed Sh10 billion for the first year of implementing the 2017-21 CBA to cater for salary increment and pension arrears.
They also wanted house and mortgage allowances for their staff, demands which were not granted in the offer. But even with the little offer, unions called the strike off and agreed to return to work.
Wasonga said with certificate of disagreement from the Ministry of Labour, they are now stronger and will use the instrument to bargain for better deals. What is clear, however, is that for the first time in university industrial action history, the unions called off a strike without a signed CBA.
"What we have signed today is not a CBA. It is a return to work formula. Do not confuse the two. Nothing has been negotiated, only proposals put on the table by both sides," said Prof Francis Aduol, Vice Chancellors Committee chairperson.
To fight drought, involve communities
According to the latest information from the Meteorological Department, rainfall will be poorly distributed in April, May and June, and this will have a serious impact on agriculture