Shining Sing'ore Girls principal's secrets to beating academic giants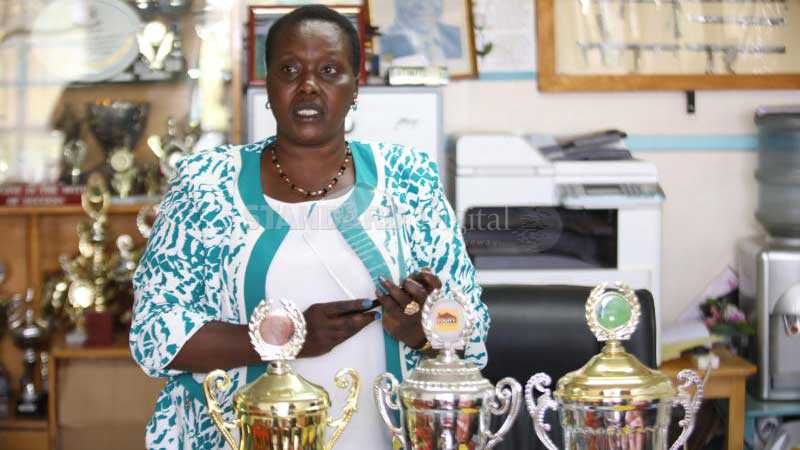 Tucked on the fringes of Kapchemutwa forest along Iten-Kapsowar road stands Sing'ore Girls High School, an institution that dwarfed traditional academic giants to be crowned the best nationally in 2017.
Christened the 'The Green Angels,' the Extra County school located 38km North East of Eldoret town and perched on the scenic Elgeyo escarpment is now the envy of many.
For nearly a decade now, the institution started by the Holy Rosary Sisters from Ireland has continuously posted exemplary results. Principal Rose Koech has been at the centre of its meteoric rise.
For Mrs Koech, last year's exemplary Kenya Certificate of Secondary Education (KCSE) results were a culmination of hard work between teachers, students and the school's entire community.
Biting cold
"We knew our girls could perform well in the examinations though we did not know that God would reward us this much," said the principal, who has been at the helm of the school for nine years.
Sing'ore Girls topped nationally in the 2017 KCSE results despite not producing a single candidate with an A plain. It had performance index of 69.9.
With 271 candidates, it posted 15 A-, 165 B+, 83 B and 8 B-. All its candidates attained university minimum entry points.
But the journey to academic agility has not been a walk in the park especially to a school tucked in a rural setup faced with infrastructural challenges and biting cold owing to its proximity to the escarpment and a forest.
Mrs Koech, described by peers as a workaholic, charismatic yet humble leader, relishes the success thus: "We are not bragging but are happy because of the performance which has been through hard work, perseverance and faith in God."
Following the release of KCSE results every year, the school scrutinises its performance and put in place strategies to improve on the subjects.
Satisfaction
"Each year, we come up with a slogan which inspires and propels students to stardom. For instance, our school slogan last year was 'operation B- out' and true to it, our last student had a B plain," says the principal who has been a teacher for almost three decades now.
She regards the success of her students as a satisfaction, saying it motivates her to work extra hard.
"When a girl joins our school in form one, she is assigned other students to help her settle in. In class, there are subject secretaries who ensure each lesson is covered on time," says Koech, herself a mother of three daughters and a son. She is married to a Nairobi-based automobile businessman.
The principal believes education is the greatest means to change the world.
"I was raised by a humble family and I usually challenge myself that any of the girls who has passed through my hands should change the society into a better place for themselves and their neighbours. I want an all round woman," she says.
For Mrs Koech -- who teaches CRE, History and Government -- last year's stellar performance was the top layer to her many other achievements. In 2016, she was gifted an award by the Ombudsman after an assessment that established Sing'ore was being run in the right way.
But it is not only in academics that the principal has transformed the school. A dairy and wheat farmer, Koech has turned the 60 acres under the school to a food producer.
"We have put up a dairy farmand we also plant maize. This has cut down our meals expenditures," she says.
Humble beginnings
Singore Girls, which is sponsored by the Catholic Diocese of Eldoret, started as a primary school then a secondary school. Its pioneer class had 13 girls sitting for the East Africa Certificate of Education (EACE) in 1971.
The school has grown in leaps and bounds from its humble beginnings to its current population of 1,546 students. It has more than 55 teachers and 40 support staff.
"We live as one big family. A teacher assumes the role of a foster parent to a number of girls.
"The students attend mass three times in a week -- on Wednesday, Saturday and Sunday," said Mrs Koech said.
The school excels in sciences and mathematics.
Koech says she deals firmly with indiscipline, but with the soft touch of a mother coupled with guidance and counselling.
"While we punish errant students, we try to get close to them to understand if there are any underlying issues. This makes them open up to us even on their deepest secrets," she said.
Sing'ore has vibrant alumni, including globally renowned athletic superstars, who mentor the girls.
Sally Barsosio, who in 1993 became the youngest ever medallist at the World Junior Championships in Athletics, and in 1995 became the first Kenyan woman to win a gold in the 10,000 metres is one such alumni. Others are Vivian Cheruiyot and Janet Jepkosgei.
It also boasts of Samburu West MP Naisula Lesuuda, journalist Judith Kosgey and Engineer Miriam Kosgei.