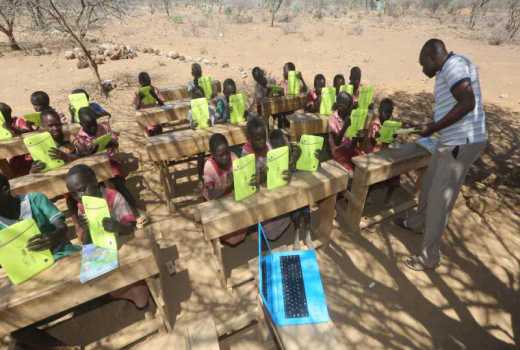 The digital learning programme rolled out by the Government is facing challenges in some schools in Tiaty due to lack of power and storage facilities for the tablets.
Tonic Masinde, the Nalekat Primary School deputy head teacher, said the school received 56 tablets but pupils were unable to use them because there in no power to charge the devices.
For more than a month now, the pupils have had to abandon their computer lessons.Sometimes, Mr Masinde caves in to pressure from the pupils and carries the devices on his motorbike to have them charged in his home in Chemolingot centre - more than 30km away.
"In a quest to have the children engage in digital learning, I carry between five and 10 tablets to my home for charging," he said, adding that this was not only risky but went against the rules set by the Ministry of Education.
"I have to carry them in my bag and use my motorbike over rough terrain. It is against the rules to travel with such valuable property for long distances," he said.
Read More
The school's nightmare began earlier last year, when strong winds blew off solar panels provided by the Government, breaking more than 10 units.
There is no power and the pupils are currently studying under trees.
The situation is no different at Chewara Primary School in Tirioko ward, where the tablets have not been used for more than two months.
Early this year, all the solar panels in the schools were disconnected after strong winds blew off the roofs of classrooms and destroyed all power supply connections.
The classrooms are yet to be repaired and the tablets remain unused.
"Despite being trained in the programme, we cannot teach the pupils without powered tablets," said a teacher.
He pointed out that the programme, which previously attracted more children to school, was slowly losing its allure as many were opting to stay home.
More than 100 new pupils were enrolled in the school when the new programme was introduced. The pupils are now said to be dropping out in droves.
Early last year, the Government rolled out the multi-billion-shilling digital learning programme in primary schools across the country.
More than 60,000 teachers were trained before the digital devices were distributed in all public schools.