School has laptops but no desks and classrooms in West Pokot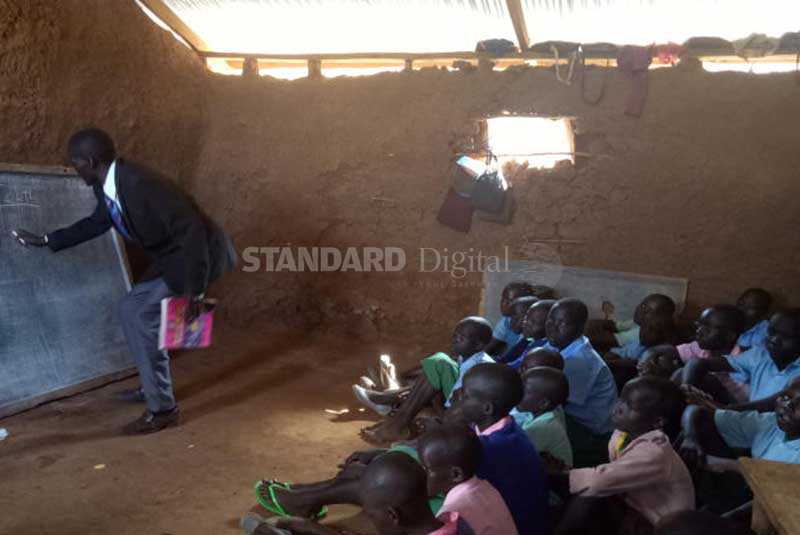 As the Government rolls out the digital learning programme, the stark reality of misplaced priority is evident at a beneficiary school in West Pokot that has no basic learning amenities.
Lopalekwa Primary School in Pokot South constituency has laptops and electricity but lacks essential facilities like desks, permanent buildings and toilets.
Mr Mathew Chomil, the head teacher, said the school received 36 laptops but pupils were not using them since they did not have proper classrooms.
The head teacher said although he and his deputy had been trained, they could not teach using the laptops because the environment was not conducive.
Gadgets locked
"We have been forced to lock the gadgets in a cupboard since we cannot expose them to dust. Moreover, how will the pupils operate the laptops with no desks?" he posed.
Chomil said the school had only three classrooms which were incomplete and also too dusty. The other mud-walled structures are in decrepit state.
During our visit, we found two other mud-walled classrooms being constructed by parents.
The school also has few desks with half blackboards. Most pupils sit on dusty floors and have no books. Standard Seven pupils are forced to share the staff room with teachers since the mud-walled classrooms are not enough.
Chomil said the school, which was started in 2008 now has more than 200 pupils yet only two teachers were employed by the Teachers Service Commission (TSC).
The head teacher appealed to well-wishers to help the institution build permanent structures.
He said pupils shared classrooms and those in lower classes were forced to learn under trees.
"Standard Seven and Six, Five and Four, Three and Two share classrooms," he said.
He said pupils in lower classes were forced to sit on the floor or on stones during class time.
The school has only two pit latrines and teachers are forced to share the toilet with pupils.
Chomil said the school had no ECD teacher.
Leonard Linakou, a parent, called on TSC to post more teachers to the school.
Poor parents
"Most parents are poor and cannot afford to pay teachers. The Government should consider our school when employing teachers," he said.
He said they were unable to transfer their children to other schools since the nearest school was five kilometres away.
West Pokot Governor John Lonyangapuo asked area MPs to ensure there was equal distribution of funds in all schools in the region.
Prof Lonyangapuo said the Government had disbursed funds through CDF and asked MPs to distribute the funds equally. "The MPs should distribute the funds without bias. All schools deserve the funds," he said.
Pokot South MP David Pkossing said he had helped the school by having power connected. "Those are mere politics. I have helped the school," he said.
To fight drought, involve communities
According to the latest information from the Meteorological Department, rainfall will be poorly distributed in April, May and June, and this will have a serious impact on agriculture