Tough times ahead as universities register low number of students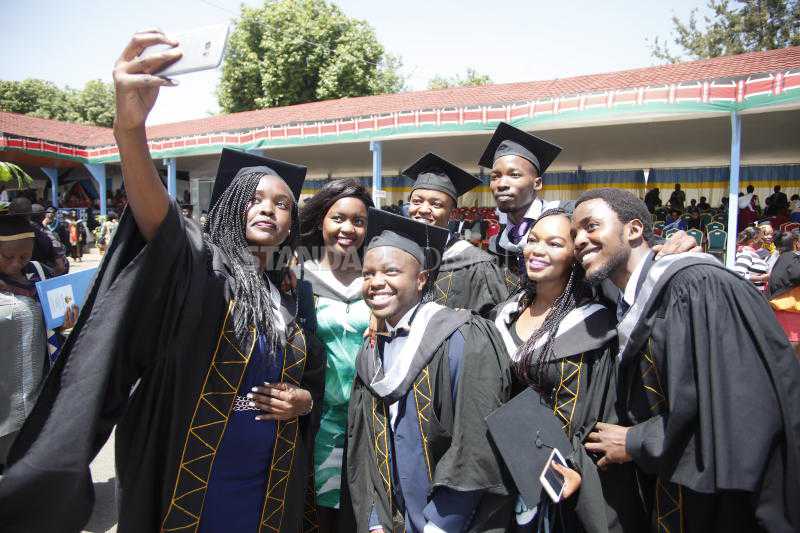 Institutions of higher learning are looking at tough times ahead after revenues, especially from parallel programmes, significantly reduced.
Universities are grappling with low numbers of students, which has reduced revenue from self-sponsored programmes.
The Standard has learnt that some institutions of higher learning are scrambling to enrol more students into their certificate and diploma courses as they fight to remain afloat.
Others have revealed painful but inevitable cost-cutting plans that may see some lecturers, especially those on part-time terms, laid off.
A source from a public university yesterday told The Standard there was a fight for students who scored D plain and D plus in last year's KCSE examinations.
Universities are now scrambling to enrol the poor performers to compensate for the low number of self-sponsored students.
Out of the 615,773 candidates who sat KCSE last year, only 70,000 made the cut-off grade of C plus to join university.
Kenya Association of Private Universities (KAPU) chairman Kisau Mumo said both public and private universities had been hard hit by the reduction of the number of students joining university.
Prof Mumo said they had suffered a reduction of between 30,000 and 40,000 students. He said they were waiting for students to apply through the Kenya Universities and Colleges Central Placement Service (KUCCPS) online portal.
"All universities will be hard hit. The reduction in the numbers of students will greatly affect us but we will wait until students have been placed. That's when we will see the magnitude of impact," said Prof Mumo.
Prof Laban Ayiro, acting Vice Chancellor of Moi University, said: "Universities will have to accept that resources from privately sponsored students have decreased and are no longer dependable in implementation of great developments."
He added: "Public universities now need to operate with a business mind to stay afloat and even develop infrastructure. We are looking to partnerships with the Italian government, through the national government, where together with the University of Nairobi, we will implement a mega dairy production project."
The dean, School of Education at Moi University, Prof John Chang'ach, says they only have admissions for diploma courses or private students. He said those with qualifications such as Certified Public Accountants (CPA) certificates that come in to pursue undergraduate degrees can no longer afford part-time lecturers.
"Schools received 27 per cent of the total tuition fees collected from their students. This would be used to pay part-time tutors but this money is no longer there. Parallel students used to be the cash cow for universities. However, this source of revenue has died and we have to devise new ways," said Chang'ach.
"We need to raise about Sh300 million monthly to top up capitation per student yet we also have to pay salaries and suppliers. We are shifting attention to Open and Distance Education Learning (ODEL) to reach more students. The modules are being developed but they are also expensive."
Dr Philip Chebunet, a senior lecturer at UoN, observed that some courses may become obsolete due to lack of quorum. He said most of the students who preferred them have joined the Privately Sponsored Student's Programme (PSSP).
Chuka University Vice Chancellor Erastus Njoka said universities will be greatly affected economically due to the reduced number of parallel programme students.
He also said the number of part-time lecturers, who they are planning to retain, will go down.
"There would be a reduction in income but now only competitive universities will survive as students join such institutions. Personally, l support the move by the Government because there is no need to have many students who are incompetent, even after their courses," Prof Njoka said.
Public universities
However, an engineering lecturer from Dedan Kimathi University of Technology Daniel Kiragu, who is also the Universities Academic Staff Union (UASU) secretary general at institution, said absorption of all students into public universities would not adversely affect lecturers.
Alupe University College principal Prof Fabian Esamai said a drop in student intake would impact negatively both public and private universities.
Prof Egara Kabaji of Turkana University regretted that the institution had admitted very few students to its parallel programmes.
So far, Turkana University has 480 students. Out of these, 100 are international students, according to Prof Kabaji.
"We have already started seeing some effects of the reforms in education as the university, which is usually abuzz with activities, is quiet," said Patrick Machisu, a local businessman.
Dismus Oronje, a student of education at Masinde Muliro University, said he feared the administration may be forced to raise PSSP fees for continuing students to compensate for the losses.
"With no more students enrolling for PSSP programmes, the institution may be compelled to review fees upwards at our expense," said Mr Oronje.
Maseno University's Director of Communication, Prof Owen Mac'Onyango, said between 20 and 25 per cent of their annual undergraduate admissions went to privately sponsored students.
But Government's decision to sponsor all the 70,000 has left universities with few students for self-sponsored programmes.
"Initially, those who used to join universities as self-sponsored students were those with B plain, B minus and C plus. But now, the Government has taken up all of them," said Laikipia University Vice Chancellor Prof Francis Lelo.
"We will have to shut down some campuses and even let go of some lecturers. We cannot even introduce new programmes because we are not sure if there will be students. There is a crisis. We are on the lookout because we do not know if this trend will be a long term or it is just for now," he said.
However, universities with many campuses will be worst hit as their future is now unpredictable due to the high operating costs.
There were 223,997 candidates who attained a mean grade of D plain and D plus in the 2017 KCSE.
KUCCPS chief executive Job Muraguri said all 2017 KCSE candidates, who scored C plus of 46 points shall be eligible for placement in both public and private universities. They will pursue degree courses under government sponsorship.
Those who scored a minimum grade of C minus of 32 points shall be eligible to pursue diploma courses in tertiary institutions.
Additionally, those with D of 18 points and above shall be eligible for placement to craft certificate offered in tertiary institutions.
"But not all those who are placed take up the courses. What we should expect is a movement of students in universities, especially to the mainstream ones, from the new ones as people will be looking for stability," said the official.
KUCCPS's move to cut minimum university entry points has been greeted with mixed reactions.
While some feel reduction in the number of students will improve quality of learning and research, others feel it is a mistake.
Kenya Universities Staff Union (KUSU) feels reduction of students will lead to reduced capitation from the National Treasury.
This, the union argued, will affect developments and purchase of new equipment.
Develop infrastructure
Secretary General Charles Mukhwaya said there is need to develop infrastructure in universities.
"Fewer students will mean quality will improve and the contact hours between the lecturer and the student will increase. However, we know this will also lead to reduction in capitation. This is where we have problems," said Dr Mukhwaya.
UASU) Secretary General Constantine Wasonga said reduction in the number of students was regrettable.
"When 600,000 students sit exams and only 70,000 are eligible to join universities and nobody takes responsibility, should be a cause of worry," said Dr Wasonga.
To fight drought, involve communities
According to the latest information from the Meteorological Department, rainfall will be poorly distributed in April, May and June, and this will have a serious impact on agriculture