Matiangi' warns those opposing head teachers' transfers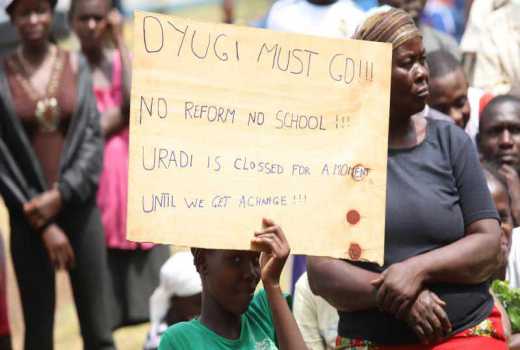 Interior Cabinet Secretary Fred Matiang'i yesterday said there will be no further changes to the decision made by the Teacher's Service Commission to transfer hundreds of head teachers who had overstayed their stations.
Dr Matiang'i warned that those opposing the transfers will be arrested and prosecuted. New headmasters posted to some schools around the country ran into headwinds as locals and students protested against their deployment.
Speaking at the Kenya School of Government on Friday, the CS ordered county commissioners to provide enough protection to head teachers reporting to their new work stations.
"What constitution do they read?" he said. "Even if they were to read upside down, they should know you are supposed to work in any part of the country. I direct County Commissioners to enforce the law and ensure no hooligan prevents government officials from reporting to stations where they have been posted," he directed.
He said no amount of tantrums by politicians will reverse the transfer of teachers.
In counties such as Bungoma, leaders have said they will set aside politics and protect schools they worked hard to build.
In Makueni, five Members of County Assembly were arrested for blocking a new principal's access to her office at St Joseph's Girls' High School.
The CS also directed his Principal Secretary Karanja Kibicho to lead a fresh campaign, with crackdowns on illegal brews, drugs and gambling machines in the country.
"It is unfortunate that there is a resurgence of illicit brews in some parts of the country. This is deplorable and an indication that some administrators among us have relaxed in the war against illicit brews," the CS said during a joint meeting between the National Administrators and Education officials.
"Everyone knows the negative socio-economic consequences of consumption of such brews. PS Kibicho will spearhead a fresh and sustained campaign to eradicate illicit brews in the country."
The CS also said the drug menace is partly to blame for a low transition of students from primary to secondary schools.
In 2016, Kibicho led a major crackdown of illegal brews, that was blamed for claiming tens of lives, more so in the Mount Kenya.