How varsity positions are killing research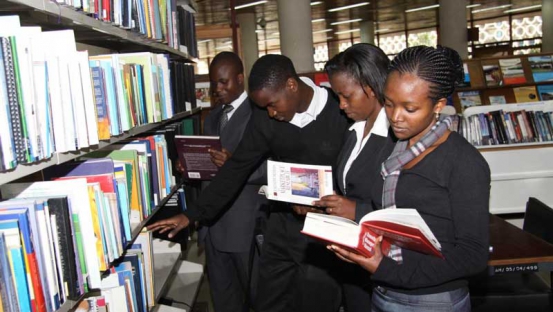 It was in Arusha, Tanzania. The affable Nigerian scholar, Dr Cyril Obi, a man who has made a successful career at running international research centres focused on Africa, warned us, "Do not allow yourselves to be appointed departmental heads or chairs of departments."
He looked down at his coffee mug, lifted it up to his mouth, and just before he took the final swig, looked up again and with a tone of finality, announced, "If you do, you risk being appointed to academic oblivion."
The year was 2014. It was barely 11 months after I had completed my doctorate studies. In my mind, I had all these lofty ideas about developing and sustaining a research profile. I also had plans to turn my doctorate into a book and proceed onto a fresh search for a new research project on local media history. I am convinced the area is in desperate need of research.
I first met Cyril in Uppsala, Sweden, where he was a senior researcher at the Nordic Africa Institute, having previously held the prestigious Claude Ake Visiting Chair at the Department of Peace and Conflict Research at the University of Uppsala.
He later moved to New York as the founding programmes director of the African Peace Network (APN) within the Social Sciences Research Council (SSRC), where he set up a highly successful grants programme that supported peace and conflict research on Africa by African scholars.
To cut the story short, I was among the 2014 grantees, and hence the re-union with Cyril. The ideals of the grant programme were greatly sympathetic to the condition of African scholars and hence its effectiveness over the years.
The grant rightly assumes that African scholars work in under-resourced environments where an overemphasis on teaching stifles the careers of brilliant yet promising scholars. It is widely believed that taking up an appointment like that of a head or chair of department in an African university where systems are weak is a sure way of freezing one's research career.
I took Cyril seriously. I had determined that I would as much as possible, through stealth and if necessary guile, avoid an appointment unto oblivion. It took only two weeks after Arusha to be personally confronted with the dreaded dilemma. The substantive head of department had just stepped down. After about a week, I received a call from our dutiful administrative assistant, Ochieng. "You have a new job, Omanga," he excitedly announced.
It was the last thing I had expected after only less than a year as a lecturer in the department. Not only were there more qualified people who could do the job, but I imagined the appointment as a distraction to more serious things. I was apprehensive that my routine would be reduced to dreary meetings, writing memos and eventually get drowned in glorified clerical duties.
Risks
I promptly sought services of a professional counsellor who understood university structures.
"There are risks when you turn down such appointments," she warned. "You know, later, when you want to ascend the academic career someone will always ask why you turned down the opportunity to serve."
"Drop this thing!" warned Dr Carli Coetzee, a long time academic mentor, at a conference at the University of London where she teaches and still edits the Journal of African Cultural studies. "Take it up only once you have established a research profile."
"I do not understand how one gets into academia to be fascinated by meetings and procedures," opined anthropologist Harri Englund as we had lunch at the dining hall overlooking the green lawns of Churchill College, Cambridge.
I wrestled doubts, but clearly, options were limited. In my inaugural senate, the ever jovial Deputy Vice Chancellor Prof Ogechi, perhaps sensing my bemusement, walked up to me and put my preliminary fears into perspective. "You have now to make a choice that confronts all academics. You can either be an academic leader or an academic, not both."
There was no orientation to the new appointment. Like marriage, one had to learn on the job. Later, I came to learn that being a departmental head was a little different than being chair of department. In the latter, which I had been accustomed to as a graduate student in Germany, the chair clearly set the research agenda of the department and practically held the position for the rest of his or her career.
The position came with huge social and academic capital. For one to be appointed, a national, even international search was commissioned. The successful chair was at liberty to assume his position with a battery of his or appointees, mostly former PhD students, who would then push a deliberately uniform research agenda for the department.
In practice, the Kenyan model of head of department positions one in a coordinating function where one is largely a first among equals with colleagues. However, on paper, as part of the job, one is responsible for providing leadership in teaching, research, extension and service activities of the department. The head is responsible to the dean and also to the Vice Chancellor.
He or she assigns teaching duties, (helps) recruit new faculty and evaluates faculty performance, provides oversight of departmental property and oversees compliance with all government and university regulations, as well as maintain personnel files and other department records. It is also the head's duty to represent the department in matters of university governance.
Service to community
In practice, however, the tasks of a head of department are much more than what is prescribed. It is a service to a community beyond the university. Each morning, you arrive in the office with three or four things to do. You leave for home at 6pm having done none of them.
The tasks can be more clerical than intellectual. It gets exciting, sometimes, but it can be a minefield too. Getting academics to agree, especially on sensitive issues like curricula is rather like herding cats. As a practice, access to the departmental head's office is often unregulated. In a context where making appointments is considered rude, an open door policy is eventually perfected. An entire day can be spent listening.
The most rewarding part, though, is the possibility of setting the academic agenda through curricular review and influencing a generation of young minds. With little substantive authority to the job, and the unique 'free-willing' nature of the academe, a head of department must be a diplomat. To attempt to project power is to court grand failure.
Research oblivion
Looking back, I think Cyril and those scholars who volunteered advice were partly right. There is a price to pay. Too often, risk of research oblivion is real. Promotions might delay, or be derailed. It can be both difficult and thankless.
But these inconveniences are often balanced by an altruistic sentiment of martyrdom. A potentially hazardous messianic feeling, often inspired by author John Steinbeck's proverbial words, 'A man's got to do, what a man's got to do.'
Dr Omanga is Head of Department, Publishing and Media Studies at Moi University
To fight drought, involve communities
According to the latest information from the Meteorological Department, rainfall will be poorly distributed in April, May and June, and this will have a serious impact on agriculture