UASU losing its voice with every chant of 'Solidarity Forever'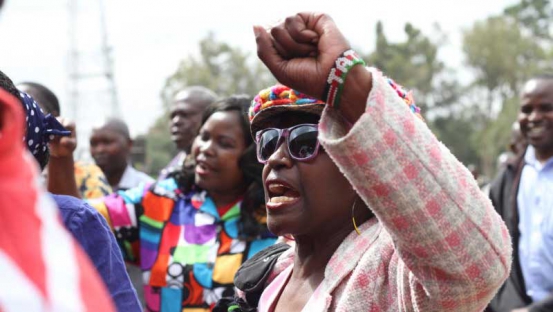 The University's Academic Staff Union (UASU) has given notice of a strike over refusal by the government to honour a past Collective Bargaining Agreement (CBA).
This will be the third industrial strike in a year and the scale of disruption of the academic calendar in an election year will be difficult to recover. That notwithstanding, the government is clearly dodging responsibility.
Failure to implement the needed salary adjustments that justified the remittances of billions in outstanding arrears before the presidential election is absurd. It risks turning the move into another of the many cash hand-outs that accompanies electioneering.
This column has argued before that the government was playing politics with lecturers' money, and that the manner in which salary arrears were paid in trickles very close to election day amounted to voter bribery.
Brute force
While consistent strikes might dent the public image of UASU, not to mention the hallowed stature of the vocation of dons, the union has fed the wrong notion that its sole mandate is the campaign for more monies to its members.
Indeed, many members actually believe the purpose of the union is to avail, through brute force if necessary, as much financial benefits as they can from the state. While the post-2002 era has witnessed modest gains for UASU in its crusades for improved remuneration, it has come at a huge cost.
That song, Solidarity Forever, usually rendered off key in uneven groans, has become emblematic of a union in need of introspection. UASU has either forgotten its history, or chosen to ignore it altogether. Its motto still reads Education Liberates.
Unknown to many, it was founded on the principles of social justice, labour democracy and democratic action. Whereas the union was established as a bargaining instrument for its members, it has a broader remit.
In its constitution, UASU is equally charged with the responsibility of organising all academic staff for purposes of improving their relationship with that of university councils, university students, the state and any other relevant stakeholder.
In a sense, UASU is not just a trade union but also a pressure group that deploys political tactics to achieve its aims. The union cannot ignore its ancillary role in politics and social justice.
A number of my colleagues were a little confused when UASU signed an agreement with NASA presidential candidate Raila Odinga days to elections. A few even argued that UASU should not engage in "politics" but should focus on "getting more money to its members".
Indeed, discourses in social media closed groups run by UASU members appear to draw a line between politics and activities of the union. Is it actually possible to avoid politics in clamouring for better terms with a political apparatus, more so an indifferent apathetic one?
Old path
Is it not the case that an attempt to distinguish between politics and trade unionism is akin to drawing a line between water and its other variants, such as ice or vapour? In my honest opinion, UASU finds itself in the awkward position of "begging" for what is rightfully theirs by ignoring the broader political and social struggles of the day. The discomfort with the 'political' in the affairs of UASU is incongruent with the demands and calling of the very vocation they represent.
Whether conscious or not, intellectuals are naturally political, and to carry the banner of intellectuals yet fail to bear a political opinion is dereliction of duty. Worse, it is an injustice to the unlettered mass when intellectuals are disengaged from the critical questions of social justice.
Thus, UASU must look to its old paths, which combined both a politically conscious organising ideology and an abiding clamour for better working conditions for its members.
The history of UASU is in itself borne out of an excruciating political process. The scholar Ishmael Munene rightly argues that the rise of faculty unionism in Kenyan universities in the 1970s had both economic and political roots. UASU took over from an outfit named University Staff Association, formed partly by the state to keep an eye on academics and also to cater for members' welfare. It soon collapsed. UASU was thereafter formed in 1972 with a greater mandate beyond merely looking at members' welfare.
In this time, it was pre-occupied with political issues arising from the growing monolithism at the political arena than what might be described as pure industrial concerns.
The arrest and detention of writer Ngugi wa Thiong'o, and the violent crushing of students' demonstrations in solidarity with other African countries' seeking liberation afforded UASU an opportunity to exercise a more socially responsive mandate.
The political context that defined the era of Dr DN Sifuna, the then UASU chairman, and Willy Mutunga, the secretary general, meant that core welfare issues were always going to be conflated with the political realities of the day. The agitation for Ngugi's re-appointment and rapid political changes between 1978 and 1980 saw the government coming heavy on UASU.
It was disbanded soon after. The re-emergence of UASU would have to wait for another political movement in the shape of widespread clamour for political pluralism in the early 90s.
However, as the historian Godwin Murunga argues, the reform era sanctioned an unhealthy assault on the university and intellectuals. It was only until 2003; after Kanu lost elections that UASU appeared to attain its Uhuru. The link between political contingencies and the restoration of UASU was no idle coincidence. UASU was always a function of politics.
The sad reality is that the present day academe and UASU in particular, is characterised by disengagement not only from popular struggles, but also from the urgent political questions of the day. According to Dr Murunga, the academe has moved from active participation in popular struggles against authoritarian one-party rule to the current state characterised by disengagement from the everyday political struggles in society.
In actual fact, the prevailing political and social realities must sound a warning to a disengaged UASU. While UASU has the choice to be apolitical, it does not have the liberty to be indifferent to social struggles and injustice.
The silence from UASU while Kenyans are seeking answers to questions on justice, governance and renewed assault on essential freedoms is untenable.
Narrow focus
The persecution of like minded pressure groups in a context of the re-emergence of ethnic based political monolithism demands a more socially responsive UASU. The union must speak both for its own members and the weak. It must reclaim its former position in the public sphere by playing vanguard to the most important political conversations of the day.
The continued violation of universities autonomy and a propensity by the state to micro-manage universities should awaken UASU from its narrow focus on marginal salary adjustments. It is these silences that are emboldening the state to contravene cherished universities statutes. Indeed, for UASU to succeed in these difficult times, it must be careful not to cede any further ground, and must forthwith stake a claim in the relentless popular struggles for social justice.
- The writer is a lecturer at the School of Information Sciences, Moi University
To fight drought, involve communities
According to the latest information from the Meteorological Department, rainfall will be poorly distributed in April, May and June, and this will have a serious impact on agriculture