Lecturers to take home fat cheques in new deal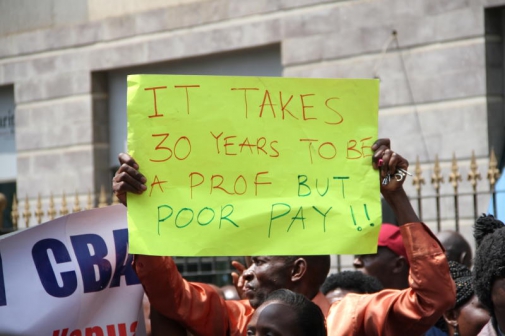 University workers will smile all the way to the bank after new salaries hit their accounts this week.
This is after the government honoured the Sh10 billion Collective Bargaining Agreement (CBA) signed with with University Academic Staff Union (Uasu) and the Kenya University Staff Union (Kusu).
Kenya Union of Domestic, Hotels, Educational Institutions Hospital and Allied (Kudheiha) workers also signed the deal. The payment ended a two-week strike that paralysed learning across all public universities.
Details of the salary deal seen by Saturday Standard reveal that a full professor will take home some Sh1.1 million in basic salary arrears and house allowance.
This means that the highest paid professor will get an accumulated monthly salary arrears– for the last four years– of Sh1.09 million.
And in addition to a house allowance increment of Sh73,715, the professor will take home Sh1.16 million.
Vice Chancellors Committee chairperson Francis Aduol yesterday said all universities have received the money.
"It now depends on how fast individual universities can make payments and I am told most have paid their workers," said Prof Aduol.
Documents seen by Saturday Standard reveal that the highest paid associate professor will earn a basic salary arrears of Sh900,621. And in addition to the house allowance of Sh66,344, they will take home Sh966,965.
Senior lecturers will get Sh58,972 as house allowance. And with basic salary arrears of Sh719,040, staff under this category of highest paid senior lecturers will earn Sh778,012.
Lecturers of a higher grade will get an accumulated basic salary of Sh640,873 and a house allowance of Sh55,286. This brings their total earnings to Sh696,159.
And assistant lecturers of higher grade will earn Sh51,601 in house allowances. Their accumulated salary arrears come to Sh549,129. This means that the assistant lecturer of top grade will take home Sh600,730.
Substantive margins
University workers percentage increment went up after a staff audit revealed that only Sh9.1 billion was adequate to compensate the 27,798 workers.
Initial figures put the total staff for Uasu, Kudheiha and Kusu at 30,312 across all the public universities.
Details show that the 2,513 workers difference generated some Sh854 million surpluses, pushing all workers pay up by some substantive margins after distribution.
Kudheiha workers were initially to receive salary increment of between 19.6 per cent to 27.6 per cent. But after fresh distribution to take care of the surplus, their salary went up by 23.9 per cent and 27.6 per cent.
Kusu workers (under grade 5-10) whose salary was to go up by 17.7 per cent got a higher increment of between 20.4 per cent and 24.9 per cent.
And senior Kusu workers (of grade 11-14) whose salary increment was to be pegged at 17.6 per cent will get between 19.8 per cent and 19.9 per cent.
Uasu workers (including Kusu grade 15) whose pay was to go up by 17.5 per cent will get between 17.5 and 19.8 per cent.
Overall, the lowest paid assistant lecturer who took home Sh69,794 will now earn 96,250 under the new salary deal. The upper limit will be Sh118,348.
The lowest paid lecturer who earned Sh83,361 in 2013 will now pocket 112,038. This opens to an upper limit of Sh140,683.
The lowest paid senior lecturers who earned Sh94,215 will now take home a basic salary of Sh127,283. The upper limit is pegged at Sh159,720.
An Associate professor, who took home Sh122,956 in 2013, will pocket Sh165,200. The upper limit is Sh203,605.
And a full professor, who earned Sh144,672, will now take home Sh192,623. This will open up to an upper limit of Sh248,898.
And for Kudheiha workers under grade I, the lowest paid, who earned Sh9,485 will now take home Sh13,259. Their upper limit has been pegged at Sh15,963.
Details show that the lowest paid Kudheiha workers of grade IV who earns Sh15,843 will get Sh22,157. These workers salary opens to a higher limit of Sh27,694.
Lowest paid Kusu workers of grade A who earn Sh17,741 will take home Sh25,237 with an upper limit of Sh31,366.
Kusu senior workers of lowest grade XI who currently take home Sh66,150 will earn Sh91,349 with an upper limit of Sh122,312.
Lowest paid deputy registrars who currently get Sh114,709 will take home a basic pay of Sh154,921 with an upper limit of Sh189,813.