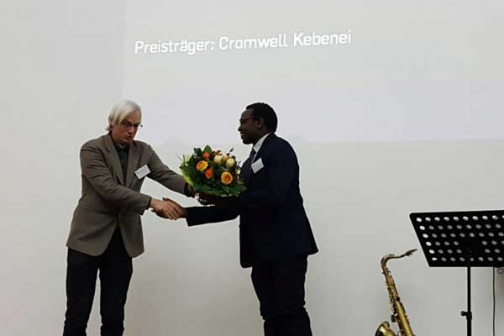 A young Kenyan has been feted and awarded a prize for emerging the best student in Applied Science RheinMain.
Cromwell Kebenei became the first Kenyan student to win DAAD prize at University because if his outstanding foreign student both in class work and as a tutor helping other foreign students and was awarded sh130,000 ( €1000s).
Professor Heimer and The Dean of Studies at the Faculty of Engineering said that they were very happy with Kebenei's achievements and wished him well in my studies.
According to the university, the student of Industrial engineering and International Management won the award for been the best foreign student that managed to study well and participate in the university in various fields.
"He has been advising students, organising talks with the Mayor and government representatives to discuss matters that could better students' life at the university," said Professor Heimer.
Read More
Kebenei said that the award was not only a motivation to him but also to all students abroad as well as to the German students.
"I was not elected after the prize. I was elected long time ago and my term is ending in April," said Kebenei.
He said he was glad and pleased that RheinMain University of Applied Science had given him the opportunity to become a good Industrial Engineer and International Manager in future.
"The words. "It greats you are here " during my admission strongly motivated me and made me feel at home, I can Identify myself very well with these values of our University: tolerance, team word, sustainability, democracy, social Justice ,diversity and solidarity and team work," said Kebenei.
He said he would continue to show very good performance and thanked the University for the Daad Award.
"I would also like to acknowledge the Kootab Nyoot community for the great support and great Mentorship,"
Members of Kootab Myoot Community led by their chairman Kipnyango Seroney sent several congratulatory messages to Kebenei. "Over the past four years we have initiated Kootab Myoot Excellence Prize to motivate candidates sitting form four examination, dispelling the myth that foreign students can't make contribution to the community," said Seronei.