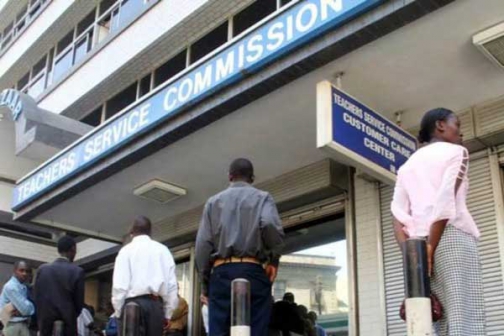 Head teachers must sign performance contracts by next week, the Teachers Service Commission has directed.
The order came even as it emerged that the 2017 performance-contacting calendar for public primary and secondary schools has been released.
A memo from TSC to County Directors also instructs these directors to discuss performance targets with school heads and get them signed at zonal and sub county levels by end of this month.
"Using evidence provided by the heads, evaluate and rate achievement of 2016 performance targets," reads the 2017 activity calendar.
The detailed communication comes weeks after the commission warned head teachers of poor performing schools that they risk missing out on promotions.
Read More
County Directors, Sub County Directors, Curriculum Support Officers will be required to monitor performance-contracting implementation 10 days after the end of each month every school term. And 21 days after receiving school performance reports, the officials are expected to give termly/annual feedback to schools. Field officers will visit all schools under them every term.
A detailed description of performance indicators shows that school heads will be appraised on seven key pillars. All heads will be assessed on finance and stewardship, service delivery, non-financial indicators, operations indicators, qualitative indicators, corruption eradication and national cohesion and national values.
Notable roles of head teachers will be first, to teach. This means that school heads who abscond classes or those who never teach will be required to take up the role and also ensure quality implementation of the curriculum.
The heads will also be required to verify teachers' professional documents, supervise the actual coverage of the syllabus and ensure teachers attend classes.
"The head of institution will ensure that adequate teaching and learning materials approved by Kenya Institute of Curriculum Development are available for the implementation of curriculum," reads the brief.
An earlier communication to County Directors noted that secondary school heads who post a mean score of less than three will be relieved of management responsibilities and taken back to class to teach.
The details were contained in a circular by TSC, which instructed that all heads whose institutions have declining performance be redeployed.
"The Commission directed that head teachers who record declining trends in academic performance should be cautioned in writing and appropriate action taken to address the gaps."
This means that the heads must take the performance contracting tools seriously because it will have a major impact on them.
The heads who will appraise teachers under them will also be required to maintain all school registers and documents and submit returns to the commission.
On financial management; "the head of the school will utilise all funds as allocated as per approved budgets and as per guidelines issued during the disbursement of government funds for free primary and secondary education."
They will also comply and adhere to the existing financial management regulations and guidelines for schools.
The head teachers' ability to resolve conflicts will also be assessed.
In addition to these, the school head will coordinate and facilitate Teacher Professional Development Courses (TPDC) within the county.