Audit university education to end academic capitalism, bogus courses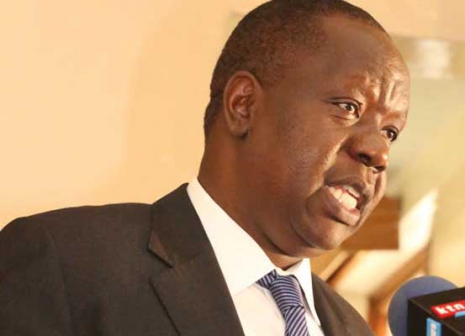 In about two weeks, Education Cabinet Secretary Fred Matiang'i will receive a scorecard from the Commission of University Education (CUE) on the current status of university education.
The scorecard will include students' biometric data, dropout rates, completion rates, examination assessment and grading systems, average period taken to earn a degree, class sizes, as well as physical facilities and their utilisation, teaching and non-teaching staffing ratios, staff development initiatives and stabilisation of expansion programmes among other related issues.
According to Matiang'i, there had been concerns of irregularities in respect to admission of ineligible students, including some politicians, who did not meet the minimum entry qualifications, students missing marks, unnecessary delay in graduation of some students, availability of unaccredited diploma and degree programmes, unqualified lecturers and lack of long-term plans.
But while Prof Chacha Nyaigotti-Chacha, the CUE chairman might provide a credible way forward on most issues that Matiang'i has raised, unanswered questions will still remain on how best to redeem academic standards.
Sham degrees and diplomas
The crux of the matter is that for about two decades, Kenya's university education system has been an inefficient factory, churning out useless tools in the form of sham degrees and diplomas. Since 2000, when parallel degree programmes took off in earnest, universities have been competing for establishment of new academic programmes, some of which are empty shells.
The parallel degree model in Kenya and elsewhere in Sub-Saharan Africa was borrowed from Makerere University, where a dual track policy of government-supported students and full-cost tuition-paying counterparts had been established a decade earlier to save the Harvard of Africa from collapse due to lack of financial resources. According to Dr Carol Bidemi, a former higher education consultant at the World Bank and currently a senior education research analyst at the RTI International, a large menu of demand-driven vocational courses acquired degree status, although very little was added in terms of curriculum development or any other academic input.
"Eventually, boundaries were blurred between the offerings of elite public universities and vocational middle-level colleges," Bidemi says.
In the Kenyan context, the universities ditched the centre of excellence model in which each university was mandated to develop specific areas of academic and research. For instance, the University of Nairobi was supposed to take a leading role in medicine, law, architecture, engineering and computer science, while Kenyatta University was to lead in education and Egerton was expected to be on top in agriculture.
Moi University was to lead in technology and environmental science, while Jomo Kenyatta University of Agriculture and Technology was mandated to become a centre of excellence for food science and post-harvest technology and Maseno University in earth sciences and fisheries.
But after becoming jacks of all trades, universities established new degrees, some of which had no academic rigour. Such degrees attracted students who should not have been near higher education and over time, attending a university has become more important to students and their parents and the question of the quality of the education provided is immaterial.
According to a recent World Bank study on the failure of Kenya's university education system to create well-paid jobs, some degrees are just money-generating programmes.
However, either with the blessing or through sheer inaction by the CUE, universities took academic capitalism further by decapitating broad-based degrees into single subjects or micro-units. From 2004, universities started single-subject Bachelor of Arts and Bachelor of Science degrees, instead of encouraging the 3-2-2-2 degree-format. Such single-subject degrees were also introduced in Bachelor of Education until the Teachers Service Commission insisted on a two-teaching subject-degree format.
But serious concerns are expressed in situations where degree course units are transformed into stand-alone degree programmes. For instance, one wonders whether it is necessary to have a Bachelor of Arts in Political Sciences side by side with a four-year Bachelor of Arts in Peace Education, which could be just a course unit in the political science segment.
Another example is where instead of offering a broad-based BSc degree in probably Botany and Zoology, some universities are offering a four-year degree in Bachelor of Science in Ethnobotany, which could be conveniently covered in a 3-2-2-1 BSc degree format.
Another weird case is that of a four-year Bachelor of African Religion and Culture degree, which could be covered in a comprehensive degree in anthropology or sociology. Instead of having a robust four-year degree in agriculture that would cover most levels of agricultural production, protection, extension and marketing, universities have several four-year stand-alone degrees in crop protection, seed science, agri-business and dryland agriculture, among other programmes.
Besides, duplication of degree programmes has been entrenched as a university is likely to have different degrees in chemistry, analytical chemistry, applied chemistry and industrial chemistry. In other circumstances, there are different degrees in food science and technology and food science and nutrition in one university.
Even as Matiang'i embarks on a course of probing the quality of higher education, parents should start asking whether their children are getting quality education that would enable them acquire quality jobs.
According to Moses Oketch, a professor of Educational Leadership at University College London Institute of Education, the call by the government that graduates should become entrepreneurs and job-creators does not cut, simply because the Kenyan government, as elsewhere in Sub-Saharan Africa, is unsure of what to do with poorly educated graduates or how to engage them.
Subsequently, university graduates are left to their own devices to create jobs, which often means working and competing with primary school dropouts in the informal sector. For now, there is urgency for the government to enforce higher education reforms beyond what Matiang'i has suggested.