Report: Some KCPE exam pupils cannot handle class 2 homework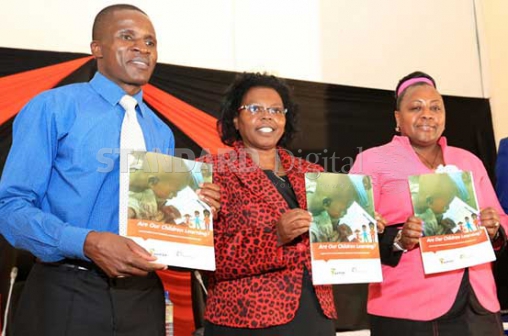 A new study has once again returned a damning verdict on Kenya's education system.
The sixth Uwezo Kenya learning assessment report released in Nairobi yesterday states that eight out of 100 pupils in Standard Eight cannot handle Standard Two academic work.
It also reveals that three out of 10 Standard Three pupils cannot handle Standard Two assignments.
The report also states that the teacher-classroom ratio is low and disparate, with an average of 12 teachers handling 10 classrooms per school.
"The ratio declines when only Teachers Service Commission (TSC) teachers are accounted for, to 11 TSC teachers for every school with 10 classrooms. In rural areas, there are 12 teachers for every school with 10 classrooms (streams), but the number of teachers rises to 14 in urban areas in schools with the same number of classrooms," indicates the report.
The damning statistics came even as President Uhuru Kenyatta, in his Jamhuri Day speech, said Kenya's education system was the best in Africa and 30th in the world.
Counties with the best teacher-classroom ratio according to the report were Kirinyaga, Embu, Nakuru, Nairobi, Kisii and Baringo.
The counties with the worst teacher-classroom ratios were Mandera and Garissa.
According to the report, one in every four Standard Three pupils in rural areas were able to handle Standard Two academic work compared to four in every 10 in urban areas.
The report praises the achievement of gender parity in enrollment and learning outcomes across the country, with the exception of arid areas where more boys are enrolled than girls.
And according to the report, private schools outshine public ones in learning.
"Pupils in private schools have better learning outcomes than those in public schools. The odds for a pupil from a private school to have better learning outcomes are twice those of a pupil from a public school," the report states.
Children with educated mothers were also more likely to perform well in class.
"Mother's education plays a significant role in improving the learning outcomes of a child."
John Mugo of Twaweza said more was needed to improve learning in the country. "The persistent inequalities in geographic location and household wealth demand urgent affirmative action," he said.