DP William Ruto gives Sh18 million record to six schools in two days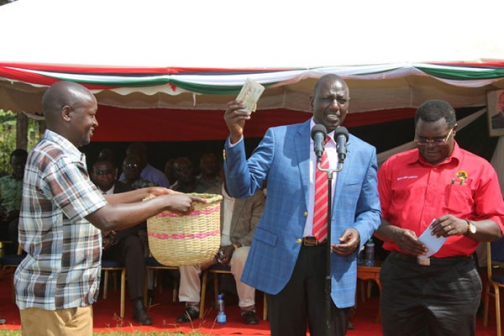 Deputy President William Ruto continued to splash huge amounts of money in harambees in Western as he popularised Jubilee Party in ODM strongholds.
The Standard on Sunday established that DP Ruto donated Sh18 million to six schools in just two days.
The Deputy President was the chief guest in harambees in four schools in Kakamega and Bungoma counties yesterday where he made impressive contributions.
On Friday, he presided over fundraisers in two schools in Kisii and Vihiga counties. In the four schools yesterday, he contributed Sh11 million. On Friday, he contributed Sh7 million.
Yesterday's first harambee was at St Peter's Machine Secondary School in Likuyani Constituency in Kakamega where the Deputy President donated Sh3 million for the construction of a dining hall.
"Jubilee government values education and will ensure every Kenyan child gets quality education. Today, President Uhuru Kenyatta and I give Sh3 million towards the construction of the dining hall here,'' Ruto said.
The Deputy President later headed to Tongaren Mixed Secondary School in Bungoma County where he donated Sh2 million for the purchase of school land. He pledged an additional Sh3 million for construction of an administration block and classrooms in the same school.
In Tongaren Constituency, Ruto was accompanied by Governor Ken Lusaka and MPs Reginalda Wanyonyi (Bungoma Women Representative), Ayub Savula (Lugari), John Waluke (Sirisia) and Eseli Simiyu (host) and former Kwanza MP Noah Wekesa.
Take a quick survey and help us improve our website!
Take a survey
Dr Simiyu declined to address the gathering only saying he does not belong to Jubilee coalition but he supports development. The third function was at Sinoko Secondary School in Webuye East represented by Alfred Sambu, who is allied to ANC leader Musalia Mudavadi. Sambu did not attend the function.
DEVELOPMENT PROJECTS
At Sinoko, Ruto donated Sh3 million towards the construction of new classrooms. The current classrooms are in a deplorable state.
"We must build friendships and as your closest neighbour, when called upon to support schools, I will not hesitate to help. Here at Sinoko, the President and I contributed Sh3million so that these classrooms can be upgraded to good standards,'' he said. Lusaka gave Sh100, 000 to Sinoko, Savula Sh30, 000, Dr Wanyonyi and Waluke each gave Sh20, 000.
The last fundraiser was at Milo Boys Secondary School in Webuye West Constituency towards construction of administration block.
The DP was hosted by area MP Dan Wanyama and he donated Sh3 million while Lusaka and Wanyama gave Sh100, 000 and Sh50, 000 respectively.
On Friday, Ruto was at Ibeno Kenya Medical Training College in Nyaribare Chache and donated Sh3 million in aid of the institute.
Later in the day, he flew to Vihiga County for a funds drive at Malinda Secondary School where he donated Sh4 million and commissioned the Last Mile electricity project in the area. Yesterday, Ruto hit out at Opposition leaders, telling them to stop holding Kenyans at ransom with unending demands.
"The only work our competitors know best is to demonstrate and throw stones. We have agreed on the electoral body send-off package and tomorrow the President will appoint those who will oversee the process of appointing new commissioners,'' he said.
He challenged the Opposition leaders to name their presidential candidate for the next General Elections. "Three principals are unable to decide on who will be the CORD flag-bearer. How will they be trusted to manage the affairs of over 40 million Kenyans?" he posed. He called on CORD leaders to desist from protests and demonstrations. Ruto asked Western Kenya residents to rally behind Jubilee Party saying it is for all Kenyans irrespective of tribe.
"If the Western region wants one of their own to be politically relevant in future, kindly support Jubilee Party this time. I want this region to walk with Jubilee and that is why we have one party called Jubilee Party which has no owner,'' he said.
Lusaka asked all Kenyans to join the Jubilee Party saying it is the party that will form the next government.
"The race is between two major coalitions, Jubilee and CORD. If you are not with JP then you have got no future," Lusaka said.
He added that he decided to join the ruling party for the sake of development of the region.