Students defy President Uhuru Kenyatta's warning, set institutions on fire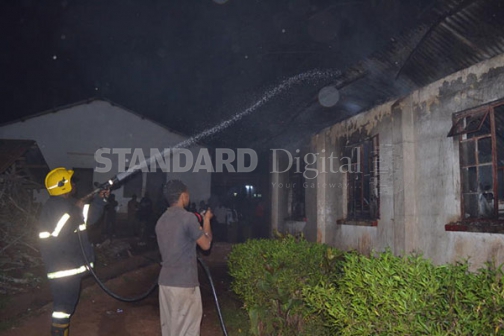 NAIROBI: Barely 48 hours after President Uhuru Kenyatta put arsonists on notice, more school fires have been reported, even as a new survey cites indiscipline as the major cause of unrest.
The latest schools to report fire incidents are Kwale Boys High School and Kipchimchim Secondary School in Kericho County. Acting Kericho County Commissioner Jamlek Mbuba said a store at the institution in Ainamoi Constituency was partially destroyed during the Friday night incident.
President Kenyatta, while presiding over the graduation of more than 3,000 youth trained by the Mckinsey Initiative and KCB Foundation, in Nairobi on Friday, blamed the fires on syndicates out to protect proceeds from selling exams.
Education Cabinet Secretary Fred Matiangí has cited resistance to reforms in the education sector, particularly with regard to conduct of national examinations, as factors fueling unrest. Teachers however, point to changes made to the school calendar that have seen second term prolonged and a ban on visiting and prayer days in third term which the ministry imposed in a bid to curb exam cheating.
The new survey, commissioned by The Standard on Sunday, was conducted by Infotrak Research and Consulting on July 28. It had a sample of 800 respondents from across the country. At 38.1 per cent, lack of values and discipline among students tops the list of causes of arson attacks in schools.
This is followed by changes in the school term with prevention of visitation (16.5 per cent), changes in the school term with longer second term (14.2 per cent), and fear among students of the expected stricter supervision of national examinations (13.1 per cent).
Other factors cited for torching of schools are fear – by cartels that thrive on exams leakage – of the expected stricter supervision of exams (13.0 per cent), poor leadership within the school administration (12.5 per cent), poor communication between students and school administration (12.0 per cent), and alcohol and drug abuse among students (10.2 per cent). Bad blood between head teachers and their deputies or teachers (1.7 per cent), incompetence among senior Ministry of Education field officers (3.2 per cent) and outside forces (cartels) unhappy with changes the ministry is making (4.0) were the least cited.
Instilling values
Others were stress among students (5.2 per cent), unrealistic rules (8.8 per cent), and negative peer pressure (9.4 per cent).
Over 90 per cent of respondents said they were concerned about the spate of arson attacks in schools with the concern cutting across parents with children in university, nursery, primary and secondary school.
The findings come at a time when stakeholders in the education sector are scrambling to find a solution to the unrest that has led to the torching of more than 100 schools in recent weeks. The incidents have reignited debate on a return to corporal punishment in schools, with 82 per cent of respondents supporting it. Majority of those polled (79.3 per cent) also believe that the ban on caning had contributed to indiscipline in schools.
Introduction of guidance and counseling programmes in all schools (42.3 per cent), corporal punishment and caning (27.7 per cent), open interaction between teachers and students (24.7 per cent), and better parenting (21.8 per cent) were cited as measures to be taken to stop the arson attacks.
Others were immediate closure of schools (12.2 per cent), conducting investigations to identify the root cause of the attacks (12.2 per cent) and the ministry remaining steadfast in its quest to straighten the education sector (9.9 per cent). Punishment of students or teachers found guilty and scrapping of mock exams polled at 7.3 per cent and 1 per cent, respectively.
Eldoret Catholic Church diocese Bishop Cornelius Korir, has cited moral decay in society and "a wave of evil surrounding learning institutions" as factors contributing to the attacks, giving credence to the survey's findings. Besides calling on churches to intervene in the matter through prayers, Korir has urged parents to unite in finding a solution.
Former President Kibaki has also waded into the matter calling on students to uphold discipline in order to excel in life. Speaking during celebrations to mark Starehe Boys Centre's 57th Founders Day, Kibaki commended the Starehe community for maintaining high standards of discipline and regretted that some students had turned on their own institutions. The former President, who is also the institution's patron, challenged parents to be role models to their children.
"Children and young people learn best through example. In this regard, the parent is the first teacher and teacher the second. Both are crucial in giving direction. The parent and teacher must therefore aspire to be good mentors, dependable leaders and guides to the children," he said.
A further look at the survey's findings shows the blame game between parents, students, and teachers on just what or who should shoulder responsibility for the unrest.
While majority of parents with children in university, nursery, primary and secondary school cite a lack of values and discipline among students as a major cause of the arson attacks, the view changes when the respondents are asked who should be blamed for the incidents.
Majority of respondents (39.3 per cent) say teachers are to blame, posing the question of just who should be responsible for instilling values and principles in children.
Up to 37.5 per cent of respondents felt that students were to blame for the mayhem, while 37.4 per cent said the blame should go to parents. The Government (26.1 per cent), came in fourth on the list of who to blame, followed by the school administration (13.1 per cent).
Teachers Unions (4.1 per cent) and cartels that thrived on exam leakages (2.1 per cent), shouldered the least blame.
Over 50 per cent of respondents feel the Government is doing enough to stop further burning of schools while 38.9 per cent hold a different opinion. Up to 5.8 per cent of those polled do not know whether the government is doing enough or not.
Thumbs up
Parents with children in secondary school have given government's efforts in resolving the crisis a thumbs up with 60.7 per cent of those polled responding in the affirmative. Up to 63.1 per cent of those without children in any of the education levels also agreed, as did 59.8 per cent of parents with children in primary school. The percentage of respondents with children in nursery, primary, secondary and university level who thought the Government was doing enough to address the crisis stood at 53.1 per cent.
The Ministry of Education, according to the survey, may have to consult wider on certain matters, with 55.9 per cent of those polled saying they were opposed to the new term structure that lengthens the second term and bans visiting day and mid-term break in third term.
Regionally, opposition to the new structure scored highly in Eastern (67.6 per cent), Nyanza (66.4 per cent), North Eastern (60 per cent) and Coast (59.9 per cent). Support for the newly implemented structure was also highly favoured by parents with children in secondary school (52.3 per cent), followed by those who have children in all the four levels of schooling (49 per cent). About 48 per cent of those that do not have children in any of the education levels also supported the new structure which attracted little approval among those with children in nursery school (22.2 per cent). The strongest proponents of the new school term structure are aged between 50 and 55 (48.4 per cent), followed by those aged 60 and above (47.2 per cent) and those aged between 40 and 44 (45.9 per cent). National Assembly Majority Leader Aden Dualle has assured Dr Matiangí of Parliament's support in his quest to fix problems in the education sector.
- Additional reporting by Lucas Ngasike, Nikko Tanui, Adow Jubat and Nanjinia Wamuswa
Kenya gets thumbs up for support to women
Kenya has bagged a prestigious award for her efforts to bridge the gender divide and empower women. The African Gender Awards 2016 in Gender Mainstreaming was presented during the 27th Ordinary Summit of the African Union Heads of State and Government in Kigali, Rwanda.