Tough new rules to curb exam cheating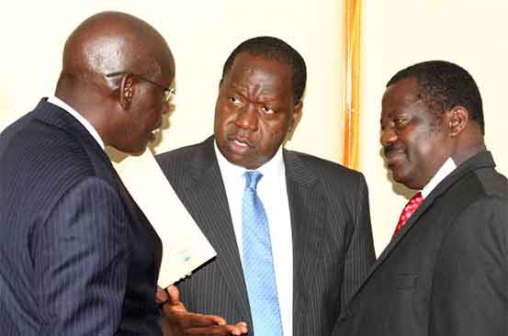 Placing higher responsibility on head teachers, fresh vetting of invigilators and a ban on school visits are new measures aimed at curbing exam cheating.
These are among the sweeping reforms introduced to restore credibility in the administration of this year's national examinations.
Starting this year, all school heads will be in charge of their examination centres and shall be held personally responsible for the cheating cases reported in their institutions, Education Cabinet Secretary Fred Matiang'i announced yesterday.
And all contracted professionals – invigilators and supervisors – will be vetted afresh, two months ahead of time.
To limit contact between students and outsiders, and reduce disturbances during examination period, Matiang'i banned all non-academic activities during third term.
The ban extends to visiting and prayer meetings organised prior to the exams. This means that no parent, relative or friend will be allowed in schools during this time.
"To control and ensure effective preparation for examinations, it has become necessary to control extra-curricular and social activities during third term," he said.
On prayer sessions for candidates, the CS said: "All prayer sessions when parents and outsiders visited schools shall never be. However, any prayer arrangements as consistent with normal prayer and worship involving school chaplains and teachers will not be affected."
Take a quick survey and help us improve our website!
Take a survey
He said school activities such as annual general meetings (AGMs) shall be done during the first and second terms, with prize-giving and prayers for candidates restricted to second term.
Matiang'i said the measures will help avoid unnecessary contact between candidates and outsiders during the examination period.
The CS added that only candidates shall be in examination centres during the administration of tests.
"I want to tell all children in candidate classes that they better prepare for the exams. The monkey business that has been going on shall never happen again," he said.
Matiang'i said the rules are part of education reforms which the new Kenya National Examination Council board is implementing to ensure credible national examinations.
PREPARE PROPERLY
"The system of managing exams this year shall be different from what has been in place. I am advising our children, teachers and parents to prepare properly and organise themselves for the exams," he said.
He said duration for writing the Kenya Certificate of Secondary Education exams shall be compressed to exactly one month whereas that of Kenya Certificate of Primary Education shall be three days.
Matiang'i also unveiled a new school calendar for this year and noted that the second term shall be extended by an additional one week.
"Third term for all schools will commence on August 29 and end on October 28 for Standard One to Seven, and Form One to Three," said Matiang'i.