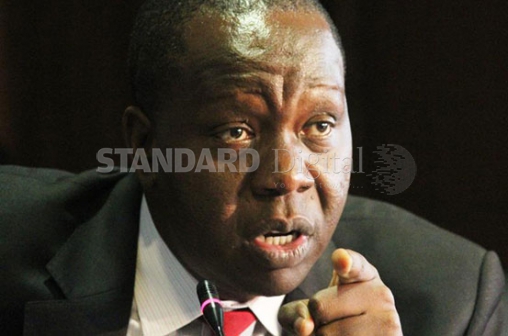 NAIROBI: A row is brewing between the government and book suppliers, just a week to schools re-opening.
It has emerged that book deliveries may not be made to schools this term as the Ministry of Education accuses booksellers of colluding with school heads to siphon billions of shillings.
Yesterday, secondary school heads told The Standard on Saturday of their fears over books deliveries as the second term nears.
"We place orders of books every term. Sometimes, suppliers get paid much later after the government sends capitation money. We do not know if they shall honour the deliveries this term," said a principal of a school in Nairobi County.
The Kenya Booksellers Association (KBA) chairperson, Arthur Kamau, yesterday said the more than 2,000 suppliers may not honour orders placed by schools this term.
"There is a lot of confusion over what the ministry's intentions are. If we make deliveries, we may never get paid," said Mr Kamau.
He further said it is not clear whether the government may extend the firm stand on books to other stationery. "We have not been engaged by the ministry," he said.
Yesterday, Education Cabinet Secretary Fred Matiang'i said the current distribution system has failed and is pushing for a new method to be adopted by July 1.
Three options
"This is madness because most schools still have a student book ratio of 12:1. With the billions we have sent to schools so far, we expect a 1:1 pupil book ratio. We are working on ways to find a suitable distribution method," Dr Matiang'i said.
A document detailing enrollment statistics for all secondary schools shows that Sh15 billion has been remitted for purchase of books between January 2015 and March 2016.
Matiang'i said the ministry is considering three options that will culminate in a comprehensive policy on books distribution by July.
The first option is the central distribution system where all books to schools will be delivered from one point.
"This is the case in Rwanda. We are also considering floating bids for supply where all delivered books shall be labeled as Ministry of Education. Or we simply move content to digital platform," said Matiang'i.
An audit report given to the Cabinet Secretary by the Kenya Publishers Association (KPA) revealed that the government could be losing up to Sh13 billion annually to books fraud.
The report reveals that most schools flout procurement procedures in purchasing books and faults the government's failure to step up inspection to stem the loss.
The report also cites failure by school heads to verify the quality of books delivered, saying this has given life to a powerful cartel of pirates.
KPA Chairman David Waweru said the amount of money remitted to schools annually towards purchase of books amounts to Sh18.5 billion, but the actual amount used to purchase books is only Sh5 billion.
Under the free primary education, each of the 9.9 million pupils receive Sh761 per year towards the purchase of books, translating to about Sh7.5 billion.
Another 2.3 million secondary school students receive Sh4,792 yearly towards books purchase, translating to Sh11 billion under the subsidided education programme.
"The total amount released to schools for purchase of instructional materials ought to be Sh18.5 billion per year. Given that public schools make purchases of only Sh5 billion, the government must be losing a staggering Sh13 billion annually," reads the report compiled by staff of ministry of Education, Kenya Institute of Curriculum Development (KICD) and KPA.
Investigations
Matiang'i said school heads and booksellers who may have colluded to steal cash meant for books will be prosecuted.
He said he has already written to the Ethics and Anti Corruption Commission (EACC) to conduct a comprehensive systems review of textbooks distribution in schools.
He said the investigation will include money trail from Jogoo House to schools where books are expected to have been delivered.
"Whoever is stealing or stole the money meant for books will deal with the consequences. It is their problem," Matiang'i said.
But the KBA has threatened to move to court to block Matiang'i from kicking them out of business.