Fees shocker to parents in Kenya as schools defy ministry's guide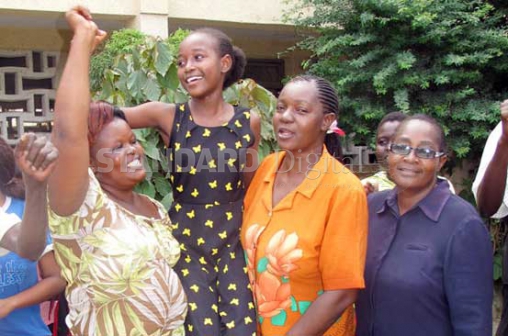 NAIROBI: Parents are facing a major fees shocker as schools reopen on Monday for the first term.
The Standard on Saturday has established that most public schools still charge over and above the set fees limits in blatant disregard of guidelines by the Ministry of Education.
A spot-check across many schools also reveals that some of the abolished levies — paid by the Government — have been reintroduced and costs for additional items affixed.
Some schools have also devised smart ways of arranging their fees structures to suppress the actual fees payable by parents per year.
And for the second year running, focus now shifts to Education officials for failing to implement the 2015 circular that caps fees for day schools at Sh9,374 per year.
Reached for comment, Education Cabinet Secretary Fred Matiang'i would not discuss the matter, except to say he will comprehensively address the fees issue later in the month during the launch of the Form One selection process.
"This is a matter I will deal with comprehensively during the launch of Form One selections on January 21," he said
The Standard on Saturday has, however, established that deep consultations are underway to determine why the guidelines have never been effectively implemented.
The circular, released in February last year and whose implementation was backdated to January 2015, sets boarding schools fees at Sh53,553 per year.
Boarding fees alone was pegged at Sh32,385. Fees for special schools are expected to be Sh37,210 annually.
These rates were arrived at after deducting the government subsidy of Sh13,000 per child per year.
Sampled fees structures that were sent to parents last year, however, reveal that none of the schools have strictly conformed to the set guidelines.
Parents in Kakamega School, for instance, will pay up to Sh100,000 in 2016. "Considering that we are only 1,175 students, each student will pay Sh78,000 as basic fees," reads the fee structure prepared by the school and dated November 12, 2015. It further notes, " ... this compared to 2015 is an increase of Sh10.5million which is 11 per cent." The Standard on Saturday managed to obtain fee structures from at least 100 schools which have already been sent to parents. Most indicated an increase in fees.
Kenya Secondary School Heads Association (Kessha) National Chairman John Awiti was not available for a comment as his cellphone was still switched off by the time of going to press.
However, just a fortnight ago, secondary school teachers had said fees increment was inevitable under the prevailing circumstances, even as education stakeholders accused the Ministry of Education of failing to address the crisis.
BUDGET PROPOSALS
Then, Awiti defended school heads, saying the process of raising school fees was a unique exercise to individual schools.
"Every school comes with its own budget proposals that are discussed by the boards of management. The budget is then passed to parents during the annual general meetings for their approval," said Awiti.
He said 80 per cent of the parents are expected to approve the budget before it is forwarded to the District Education Board for final approval.
"Some parents do not attend these meetings. So when the DEB finally approves the fees they begin to complain. But this is an exercise that does not just happen," he said.
However, the document we have seen enumerate how a 'Parents and Teachers Association (PTA) project' fees has been increased by four per cent from last year. Another vote head for PTA activities has been increased by 27 per cent, from Sh1,500 last year to Sh5,150 this year. The gazzeted guidelines zero-rated PTA fees.
Kakamega School has prepared and capped a 'PTA activities' budget for 2016 at Sh6 million, part of which includes Sh600,000 to be paid to external speakers.
Extra programmes and Saturday lunches for teachers for this year will cost Sh2 million and another Sh880,000 is budgeted to finance two Annual General Meetings/Prize Giving days.
A central activity fund of Sh806, university forms of Sh500, Board of Management (BoM) levy of Sh2,322 and Sh300 for the school magazine have also been affixed.
Cumulatively, parents will pay an additional Sh13,108 over and above the basic fees, a figure almost twice the amount parents paid in 2014. This figure is, however, minus the school uniform levy that will be paid by Form Two, Form Three and Form Four students at between Sh1,300 and Sh3,150.
Moi Girls High School (Eldoret) has capped its fees at Sh82,397. Part of this money is a Sh11,640 parents association fund and a Sh2,000 development fund.
The school also breached the 50:30:20 payments formula of fees as was directed by the ministry. "Parents and guardians who pay by instalments are strictly advised to pay not less than three quarter of the terms fees on or before the opening day and the balance by half the term," reads the structure prepared by the school.
Kenya National Association of Parents (KNAP) Secretary General Musau Ndunda Friday accused ministry officials of lacking capacity to enforce the fees guidelines.
"They do not have inspectors to do the work. It is all talk but no action," said Ndunda.
He also accused County Directors of Education for abetting fee increments in their jurisdictions.
"They preside over meetings that hike fees and condone these vices. We have taken 15 of them to court and we shall arraign all of them until fees is capped as recommended," said Ndunda.