Invest in quality education, says former President Moi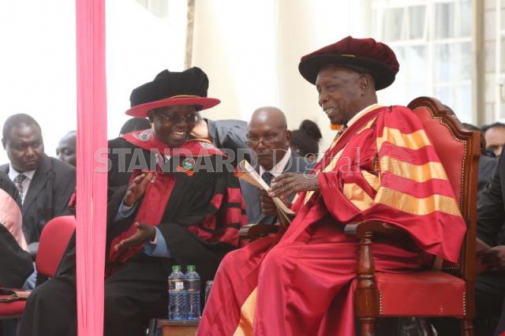 Former President Moi has asked stakeholders to ensure that all students receive quality education.
Speaking during Kabarak University's 11th graduation ceremony yesterday, the former head of state said education greatly contributes to a nation's growth and development.
Moi, who is the university's chancellor, said a strong foundation in education helps develop character and career prospects.
"One thing I wish I could do is provide education to every student so that no child is left behind. Parents, without education we cease to exist," he said.
During the ceremony that saw the conferment of more than 800 graduates with degrees and diplomas, philanthropist and entrepreneur Naushad Merali was awarded with a honorary degree of Doctor of Leadership (Honoris Causa).
Recognising him as a great man with a vision to change the world, Moi thanked Dr Merali for helping to assist the disadvantaged in society and for creating jobs through his vast business empire.
Moi noted that in 2014, the philanthropist made it to the Forbes Top 40 list of the most generous personalities in Africa.
In his acceptance speech, Dr Merali urged the young graduates to be innovative and endeavour to create jobs.
On his part, the Commission for University Education Chairman, Prof Henry Thairu, who was the chief guest, said the commission would ensure that even as more people get an opportunity to learn in universities, quality standards would be maintained.
"Get it from me that all upcoming learning institutions will be thoroughly vetted and those found unfit for learning will be shut down. It is not our desire to see education of our children diluted," said Thairu.
"Whether it's public or private, I assure you that beginning this January; several of these fake colleges will be shut down if they do not meet our requirements."
Senator John Lonyangapuo, who is also the Kabarak University Council chairman, thanked the former President for establishing the institution.
"Moi has given his very best to this magnificent university. Kabarak University indeed is an eternal gift to this generation and generations to come," said the West Pokot senator.