Why spend more when you can grow highly nutritious animal feed?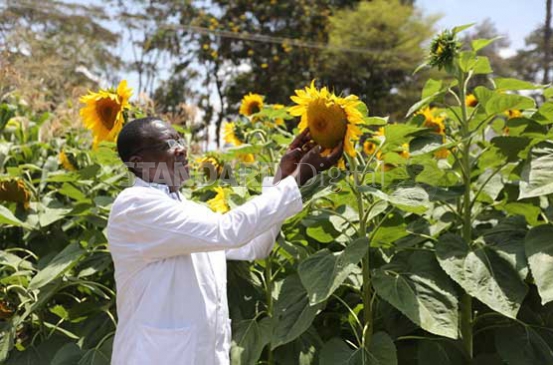 NAIROBI: Feeding your animals need not cost an arm and a leg due to rising prices of commercial feeds. For a cheaper and better alternative that produces higher yields, farmers are advised to grow their own nutritious fodder rich in carbohydrates and proteins in their farms.
And farmers can never run out of options, even in places that receive minimal rainfall. For a rich source of carbohydrates, experts recommend oats, a fodder crop that provides energy for the animals. The crop does well in areas adversely affected by weather, as traditional grass like nappier does not do well in very cold weather. Oats are also successfully inter-cropped with vetch, a legume that provides protein for animals.
"Inter-cropping vetch and oats enables farmers to have both energy and protein feeds," says Florence Mbogo, an extension officer with Nairobi County's Agricultural department.
FAST MATURITY
"You can also inter-crop oats with lucern. However, lucern does not do well with weeds. We therefore prefer vetch because it covers the ground, so weeds have no chance of growing in between. Vetch also contains nitrogenous fixing bacteria," says Ms Mbogo, who also teaches farmers on livestock production.
When planted and inter-cropped, both crops (oats and vetch) only take three months to mature. But for a higher yield, farmers are advised to harvest vetch when it flowers. "This is when the nutritious value of this crop is at its peak. Do not wait for them to seed because when they do, all the protein will move to the seed. You want to harvest when the nutritional value has been distributed evenly to the whole plant," says Mbogo.
"Upon harvesting, farmers should not feed it directly to the animal. We prefer that you take it to a shady to shed excess water. That prevents the animals from suffering from bloat."
Large scale farmers can bale the crop after harvest for preservation, either for later feeding or for sale. According to Mbogo, an oat-and-vetch bale is of higher value as it contains both proteins and carbohydrates. Such a combination can fetch double the price of a normal energy bale.
As a farmer turned trainer, Justus Muchiri has a lot to share on how to grow his own fodder rather than spending a lot of money on animal feed. Mr Muchiri is a member of the Ikinyukia Community Based Organisation in Njabini, Nyandarua County, which has been partnering with Kenya Agricultural and Livestock Research Organization (Karlo) since 2005 in livestock, technology, transfer and dissemination activities.
"We have been trained in fodder production and conservation, green seed fodder production and marketing, home-made dairy rations and group dynamics," says Muchiri, who now runs a two-and-a-half acre farm, which he uses to grow fodder seeds and train other farmers. "Dairy meal is very costly nowadays, so we tell farmers they have to work in their gardens and grow this product for them to have enough feed for their animals".
"We get our technology from Karlo and sell small sachets to farmers to multiply it for their animals. We also train them through field days and at agricultural shows," he says.
Other types of fodder that can be grown in addition to vetch and oats are Sudan grass, maize fodder, Guatemala grass, Rhodes grass and protein rich fodder such as lucern and desmodium.
"The yields for all these types of grass are different. Usually, farmers only plant Sudan or nappier grass, but once we explain to them the other options at their disposal, they do change. We want farmers to use the crop that has the highest benefit," says Meshak Nderitu, a senior livestock officer at the Ministry of Livestock.
DROUGHT RESISTANT
"Sudan grass is a fodder crop which can also be dried to produce hay for storage. The nutritional value in Sudan grass is higher than in nappier grass but the yields are lower. Sudan grass yields about 4-6 tonnes per acre. Napier grass can reach eight tonnes," he says.
This is because Sudan grass has less moisture content than napier, which affects the weight and tilts the scale in favour of the later. Sudan grass is also more resistant to drought and is not affected as much by disease as the napier grass. "You can only intercrop Sudan grass with desmodium (a source of protein) to allow effective weeding as the interval between the rows is very thin," says Nderitu.
Livestock experts from the ministry usually help farmers formulate the right quantities for carbohydrates, proteins and minerals per day to maximise production. "Even if you feed your animals with all the correct carbohydrates and proteins, you'll never produce milk unless the animals have the necessary minerals in the correct ratios," says Nderitu. "For minerals, you just buy supplements from the shops as the mineral salts are formulated for the animals."
"If you can't plant these proteins, you can buy the ready-made proteins like sunflower, cotton- seed cake and soya beans which are good complements for carbohydrates. However, it is much cheaper to grow your own feeds but proteins sold in shops currently are of poor quality. Growing your own assures you that your animal gets what it requires," he says.
Other types of grass also have their own advantages and disadvantages, according to Nderitu. "Rhodes grass production is high and can grow in semi-arid areas but may require irrigation. It's CP (crude protein) can go to 12-16 per cent, so it is more nutritious than the other grasses. That is why large scale farmers prefer Rhodes grass to the other grasses," he says. "It is not easily affected by diseases and is also very easy to store. Even after maturity, it can remain in the farm for a while but must be harvested once it starts flowering."
Nderitu advises that maize fodder is good as preservation of food for livestock and also for silage once it reaches the doughy stage, but occupies a lot of space yet harvesting occurs once or twice per year.
Seeds for various varieties of fodder can be obtained from the Kenya Seed Company.