Increased investment in education has boosted enrolment, President Uhuru Kenyatta says
EDUCATION
By PSCU | January 17th 2015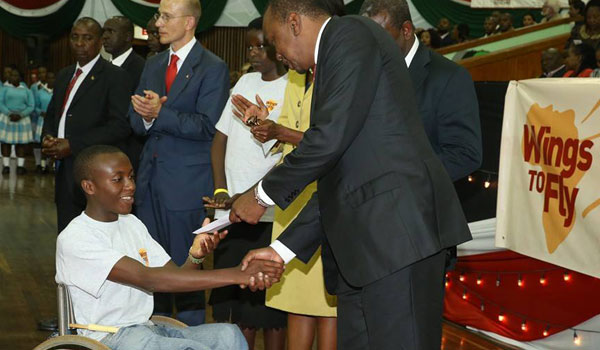 President Uhuru Kenyatta awards one of the beneficiaries of the Wings to Fly scholarship at Safaricom Stadium, Kasarani. (Photo:PSCU)
Nairobi: The Government has scaled up its investment in education to sustain ongoing efforts to increase enrolment," President Uhuru Kenyatta has said.
The President said the Free Primary Education programme expanded enrolment from 5.9 million children in 2003 to 10 million presently. He added that since inception in 2008, the Government's Free Day Secondary Education has raised enrolment from 800,000 to nearly 2 million currently.
"We are keen on expanding educational opportunities to all Kenyans regardless of background," President Kenyatta said.
President Kenyatta spoke today at Safaricom Stadium at Kasarani in Nairobi where he commissioned a group of 2,000 pupils from needy families who excelled in last year's Kenya Certificate of Primary Education exams and won the 'Wings to Fly' scholarships for 2015 secondary school intake.
The 'Wings to Fly' scholarship programme which sponsors bright students from disadvantaged families across the country is a brainchild of the Equity Group Foundation. It is implemented in partnership with MasterCard Foundation, Equity Group, USAID, PEPFAR, UKAid and KfW.
The scholarship covers tuition fees, accommodation, books, uniform, shopping, pocket money and transport to and from school for the beneficiaries.
President Kenyatta commended the scholarship programme for also nurturing leadership skills of the young generation through mentoring and social transformation initiatives in partnership with other stakeholders.
He said the Government considers stewarding national transformation aimed at rapid take-off as one of its duties.
"It is a plain fact that without wings to fly, take-off is a pipedream. Without wings to fly, the runway you sit in is also your destination," he said.
The President said individuals must be empowered with both ability and opportunity for them to conquer poverty and contribute to national growth, adding that education brings both opportunity and ability to every person.
Said the President: "Education is a phenomenally transformative intervention for nations as well as individuals."
He underscored the Government's determination to rapidly improve the quality and relevance of education and training to meet the country's human resource needs and the imperatives of a knowledge-based economy.
"This is why a programme like Wings to Fly is important. It complements on a large scale my Government's commitment to ensuring that no deserving child misses the opportunity to realise their dream. It enables us to look beyond poverty, vulnerability and see possibility," he said.
Noting that 'Wings to Fly' scholarship's impact in the education sector, the President encouraged the programme not to halt its support to children from poor backgrounds.
"I have heard suggestions that this may be the last class of Equity Wings to Fly scholars. Without a doubt, you have made great impact and benefitted this nation immensely. Why stop now?" the President posed.
To the beneficiaries of the scholarship programme, the President urged them to grab the opportunity with both hands and show the world why they deserved it more than anyone else.
"Do not look back. Do your sponsors proud. Do your families proud. Do us all proud. Nothing stops you now from reaching for the stars and beyond," President Kenyatta advised the scholarship beneficiaries.
The President also urged governors and Members of Parliament to sponsor some of the bright students who missed out in the 'Wings to Fly' scholarship awards.
Education Cabinet Secretary Jacob Kaimenyi said implementation of the free secondary education required the input of all stakeholders to succeed.
Equity Group Foundation Chairman James Mwangi said with the intake of 2000 students this year, the programme has now managed to sponsor 10,377 students surpassing its five year target.
Other speakers included British High Commissioner Christian Tunner, American Ambassador Robert Godec and his Germany counterpart Andreas Peschke, MasterCard Foundation board member Jendayi Frazer and Equity bank Chairman Peter Munga.