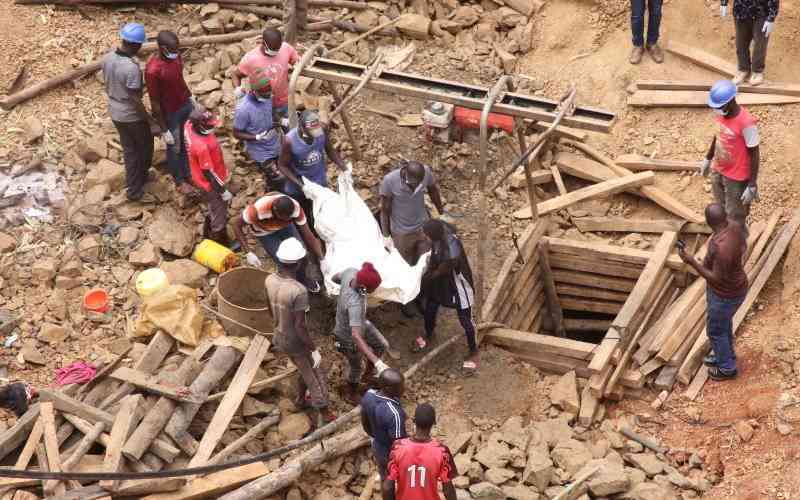 The family of Tom Okwach can finally have closure following the retrieval of their son's body from a mine in Bondo, Siaya County. It has been a harrowing seven months for the family since December 8, 2021, when Mr Okwach and seven other miners were trapped in the mine after its walls collapsed.
The fact that it took seven months for the body to be retrieved says a lot about our preparedness, or lack of it, when it comes to rescue and recovery during emergencies and disasters, natural or man-made.
In such situations, citizens should follow the government's lead for there cannot be any other agency with more resources, humans and capital, than the government and it should always bring in its experts from the disciplined forces because they are there.
In the case of Mr Okwach that did not happen, and the recovery was done by residents, using bare hands and rudimentary equipment because the county government also abandoned the family in the second month.
The County Government of Siaya told the family it had no rescue and recovery experts and even the national government must have said that in a few words, when rescuers sent from Nairobi left the site in December, after being there for only three days.
While we may say that even the miners need to observe some level of safety when digging the tunnels, the buck stops with the government - both national and county - and it needs to ensure that safety regulations are followed; that safety takes precedence, and in case of an emergency, the rescue and recovery teams do their work.
There are several instances when Kenyans have died in situations where they could have been rescued. This happened because either the authorities did not reach the disaster scene on time, did not have the requisite equipment of just ignored the victims altogether.
It is pointless to remind the government that it needs to do its work because it has all the resources, but it is not a crime to tell the government that it has to stop making it easy for Kenyans to die. Ideally, it should stop killing citizens.