Restraint would have averted Kiplombe bloody clash
EDITORIAL
By Editorial | Dec 27th 2021 | 2 min read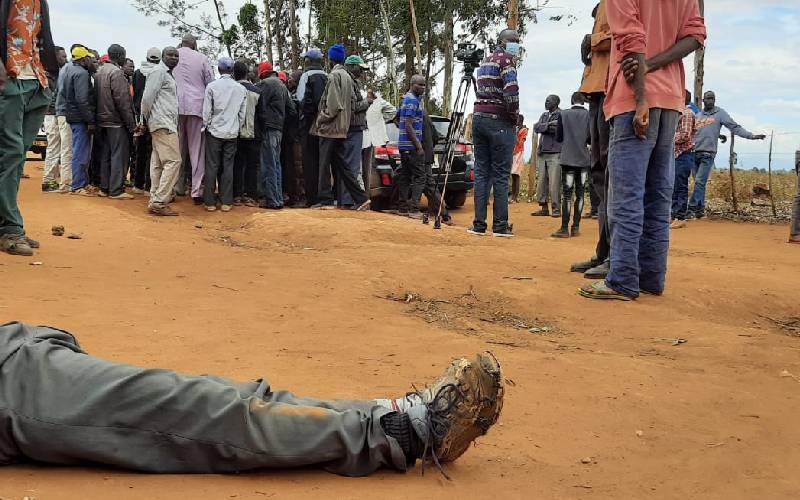 Residents of Kiplombe in Uasin Gishu County have been plunged into mourning following the fatal shooting of three people during a confrontation between locals and the Kenya Defence Forces (KDF) personnel.
The residents claim the confrontation was sparked by the soldiers' decision to erect beacons on disputed land.
The dispute over the parcel, they argue, is in court and therefore the soldiers should have waited for the court to make its decision before demarcating the land.
On that, they have a point. If there is a pending case, the wise thing was to await the court to give directions. KDF should not have jumped the gun.
However, the residents too erred by confronting the soldiers. Just as they expect KDF to respect the due process, they should have followed the rightful channels in resisting the 'invasion' of the land that they consider theirs.
They should have complained to the police, the national land commission or even asked the court - which they claim has stopped the demarcation of the land until the case is heard and determined - in contempt.
That doesn't mean that it was in order for the soldiers to open fire on the residents if indeed they are the ones who unleashed the killer shots.
In other words, common sense on both sides of the disputing parties would have greatly helped to avert needless loss of lives on Christmas Day — KDF would not have moved in to demarcate the land if indeed the court had directed them not to and the locals would not have confronted the soldiers even if they deemed them to be on the wrong.
The soldiers should be punished if it is found that their lives were not in grave danger to warrant such action. In the same vein, anyone who incited the public to take the law into their own hands should be punished. Villagers cannot beat KDF in its own game.