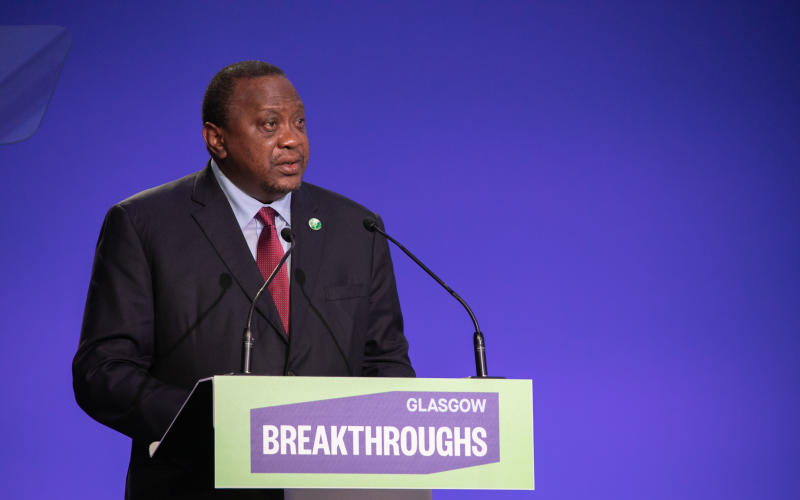 Kenya, as a signatory to the Paris Agreement, is in Glasgow for the UN climate conference COP26, where Africa is demanding significant commitment to climate action by world's biggest emitters of destructive Greenhouse Gases.
Any positive outcome from the COP26 will boost climate action efforts back home. But that is yet to be assured, with the members' first meeting's failure to adopt, as a COP26 agenda, Africa's push to be considered a continent with special needs.
Kenya has been recognised for its strides in transition to renewable energy. It is making efforts towards 10 per cent tree cover, and even has a Climate Change Act (2016) that highlights, among others, mitigation and adaptation.
More, however, needs be done to achieve the goals set out in our climate National Action Plan. Tree planting efforts are commendable, but the rate at which they absorb carbon dioxide is not commensurate to that of emissions'. Climate action must, therefore, include conscious emission reduction.
President Uhuru Kenyatta, speaking in Glasgow, promised robust efforts to exploit renewable energy sources, besides other commitments in Kenya's updated Nationally Determined Contributions submitted to the UNFCCC in 2020. To get there, Kenya must consciously reduce appetite for fossil fuel, fully implement laws governing climate and focus on blue economy with long-term smart visions. Our ocean territory needs to be protected more, to minimise exploitative fishing and harvesting of mangrove trees.
The government must capacity-build and reward conservation efforts, ensure that infrastructure projects are excellently done to minimise loss and damage during extreme weather, while also focusing on the drought stricken north with irrigation.
It must also share knowledge on smart farming to forestall food insecurity following crop failure due to unpredictable weather. In addition, government must stay firm on its ban on single-use plastic and deal with the untouchable abusers of riparian land.
We must play our part to help put the brakes on the climate crisis. The time to act is now.